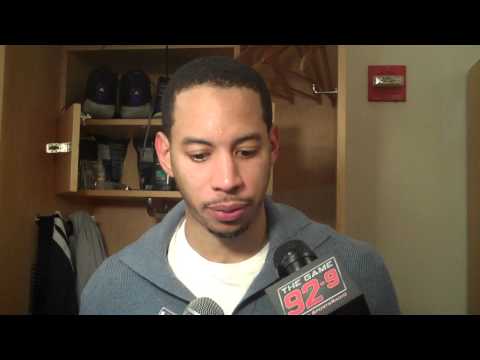 View 10 Items

ATLANTA — Devin Harris was hardly surprised when he got traded from the Utah Jazz to the Atlanta Hawks last summer.
"It was the writing on the wall when Mo came," he admitted.
Less than a week after the Jazz wheeled-and-dealed to bring in Mo Williams from the Clippers in a four-team trade, Harris was shipped off to his fourth NBA home.
"I've been in this league long enough. You see things happen," Harris said. "Obviously, it worked out."
Before scoring 24 points and tearing Utah's hearts out in Friday's 103-95 Hawks win, Harris spoke highly of his time in Utah for the brief time his stay lasted.
Harris was originally traded to the Jazz from New Jersey as part of the Deron Williams deal. He played in Utah at the end of the 2010-11 season and then the entire lockout-shortened 2011-12 campaign.
"It was a fun time while I was there. Fans embraced me. I enjoyed spending time there," Harris said. "It didn't last very long, but that's what happens with expiring contracts and other stuff."
In exchange for the speedy point guard, the Jazz received Marvin Williams from Atlanta.
Harris' favorite memory with Utah was the Jazz's playoff push last year, which helped him and guys like Al Jefferson return to the postseason after an extended absence.
"We started out well and then we dipped a little bit and then we came back strong. It's good to prove people wrong. Nobody thought we'd be in that position," Harris said. "Obviously, we'd like to extend it a little bit longer. It was good to get back there."
Harris has been in and out of the starting lineup this season. He also recently missed 11 games with a right foot injury, returning Wednesday — just in time to get the rust off to kill his old team with 7-for-8 shooting, five assists and four rebounds.
"It was good to see him play well in front of his former team," new teammate Lou Williams said, "and to be very key in getting the win."
Harris likes the camaraderie and results of his new team, which is 21-14 and looks to get him back in the playoffs for a second year in a row.
"It was fun playing in that type of atmosphere," he added, again recalling the Jazz's playoff run.
MARVIN'S MOMENT: He was disappointed to not be able to play Friday at Philips Arena after spending the first seven years of his pro career in Atlanta, but Marvin Williams enjoyed being back in his original NBA home.
The feeling was mutual.
During the first quarter Friday, the Hawks played a special tribute to Williams on the video scoreboard. The crowd of 12,064 responded with a nice ovation for the amicable small forward.
Williams was touched.
"It was pretty cool of them to do that," he said. "I've never seen anyone do that before, so I thought that was pretty awesome for them to do that for me."
Atlanta also presented Williams with a framed collage of pictures taken of him with young Hawks fans from community events he participated in over the years.
"My mom will be really excited about this, for sure," he said. "She puts stuff like this up around the house all the time."
NEW HOME? It was "difficult" for Williams to be traded from his first team after such an extended stay and building so many close relationships, but the 26-year-old said he's adapting nicely to being in Utah.
"It's been really fun. I really enjoyed my time here (in Atlanta). I was very appreciative of this organization," he said. "They gave me an opportunity to live out my dream. I'll be forever grateful to the Atlanta Hawks for doing that."
Williams also dropped a hint about whether or not he'll take his player option to remain with the Jazz through the 2013-14 season.
"I'm a member of the Utah Jazz now and I like where I'm at," Williams said. "And I'm really enjoying my time out there, so hopefully I can stay there as long I've been here."
MORE MARVIN: Williams on playing in that quadruple-overtime game in which his old team outlasted the Jazz for an exhausting 139-133 victory last March:
"We (Derrick Favors and Paul Millsap) were talking about how gassed we were," he said. "I've never played in a game that long, not even outside messing around. I've never played basketball that long before at such a high level."
What was it like?
"It was a fun game. I was finished," he said, recalling how it as the third overtime game in as many nights for the Hawks. "It was awful. I was done."
MORE MARVIN II: Williams, who sported a Mariners hat into the arena as he occasionally does, likes his Seahawks' chances when they take on the Falcons in Atlanta on Sunday.
Williams: "I'm pretty confident that Seattle will be playing again next Sunday."
JAZZ NOTES: Former Jazz shooting guard Kyle Korver only scored three points, shooting 1 for 4 from the field in Atlanta's win. He was traded to the Hawks by Chicago this past offseason. ... Randy Foye hit a season-high six 3-pointers during his 25-point night. ... Utah had blown double-digit leads three previous times this season — twice against the Grizzlies (16 and 12) and once at home against the Clippers (19).
EMAIL: jody@desnews.com
TWITTER: DJJazzyJody