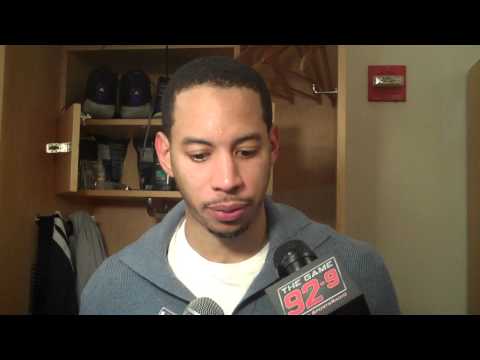 View 11 Items



ATLANTA — Al Jefferson sat in his locker, slumped over in despondency and with eyes fixated on the floor in frustration, a few moments after the Utah Jazz's game against the Atlanta Hawks.
Big Al wasn't nearly as exhausted as the Jazz were after last year's quadruple-overtime loss in Philips Arena.
By the looks of it, though, this one hurt worse. It certainly hurt badly, which Jefferson made clear by asking for a few extra minutes to gather his thoughts before being interviewed.
No surprise why.
The Jazz blew a 15-point lead in the second half, suffering a 103-95 defeat to a team that ended its four-game losing streak while ripping the visitors' guts out.
On the bright side, at least this heartbreaker ended in regulation.
"It just (stinks) to let them take it away from us," Jefferson said. "We had them down. We should have just buried them."
Four straight turnovers at the end of the third quarter helped Atlanta quickly trim Utah's 75-60 lead down to a more manageable eight-point deficit heading into the fourth.
Led by former Jazz point guard Devin Harris, the Hawks continued to surge in the fourth. Harris, traded to the Hawks for Marvin Williams last summer, scored a season-high 24 with five assists after recently missing 11 games with a foot injury.
Atlanta (21-14) then dominated down the stretch, closing its comeback win by outscoring Utah 15-3 in the final four minutes.
"Glad to see him back from his injury. I'm glad to see him have a good game," said Jefferson of Harris, whom he played with in Utah for a season and a half. "But it doesn't matter if it was Devin or anybody else, it still (stinks) right now to lose a game that we had control of."
Until that monumental meltdown, that is.
"You can't stop doing what you're doing to get you a 15-point lead," Jazz coach Tyrone Corbin said. "We got away from it. We thought the game was over. … It's a disappointing loss."
Three Jazz players scored 20 or more points, led by Randy Foye's 25-point outburst and double-doubles from Jefferson (23 points, 10 rebounds) and Paul Millsap (20 points, 13 boards).
But there was no solace to be taken from this devastating defeat, which happened to be the fourth game this season in which the Jazz have blown a double-digit lead.
"This is a tough one to swallow," Foye said. "It don't matter (his big game). If we don't win, it don't matter what I do. I just want to win. That's it."
The loss prevented Utah from winning consecutive games on the road for the first time this season. It also sent the Jazz back to .500 at 19-19, halting their momentum after wins in four of their previous five games.
The sting obviously continued to surge through Jefferson as he looked down, occasionally burying his face in his hands and sullenly looking down, in his postgame interview.
"You don't want to be in a situation down the line fighting for a playoff spot and you think back to this game," Jefferson said. "That's what (stinks) about it."
Backup big man Ivan Johnson gave the Hawks the lead for good at 96-94 on a layup that swirled around the rim before dropping in with 1:28 remaining.
Jamaal Tinsley had a chance to tie it 19 seconds later, making one free throw and then watching as his second one took an Atlanta-approved trip around the rim before falling out.
Smith, who had 15 points and 10 rebounds, followed that with a tough fade shot and Lou Williams drained a dagger of a 3-pointer with 29 seconds left to all but clinch it for Atlanta.
Williams, Johnson and center Zaza Pachulia combined to score 39 points off the bench on a night the Jazz reserves only mustered 16 points, topped by Gordon Hayward's 12.
Derrick Favors went scoreless with just three rebounds in front of family and friends in his hometown. Enes Kanter had just four points. And Alec Burks, who'd been playing so well, saw just seven minutes.
Though it seemed Utah could've used Burks' quickness against Atlanta's speedy backcourt, Corbin got testy when asked about his guard's limited action.
"Did you watch the game?" Corbin said, frustration in his voice at the question. "He didn't have one of his better games."
None of the Jazz players did in the final quarter and a half. Atlanta, which shot 55.6 percent for the game, won the fourth quarter 35-19 in front of a riled-up crowd of 12,064.
Corbin lamented that the Jazz could've used injured Mo Williams and Marvin Williams, who was bummed to miss his first return game in Atlanta.
"We're up 15 points in the third quarter," Corbin added. "We should have been able to control this ballgame."
"Maybe Ty (was) right. Maybe we felt like we had the game in the bag and they was just going to lay down," Jefferson said. "I hope we learned a lesson from tonight."
Comment on this story
Now the Jazz have less than 24 hours from the end of this one to regroup in time for tonight's game at Detroit.
"As you remember last year, we lost a tough game here and we went back and bounced back against the Nets," said Jefferson, recalling the Jazz's 139-133 four-overtime loss last March and the ensuing win at New Jersey the next night. "We've just got to do it again now, right now at this moment. It just (stinks) right now."
"That's the NBA. We didn't put our best performance out tonight," Corbin said. "Get on the plane, suit up tomorrow and we've got another chance to do it."
EMAIL: jody@desnews.com
TWITTER: DJJazzyJody