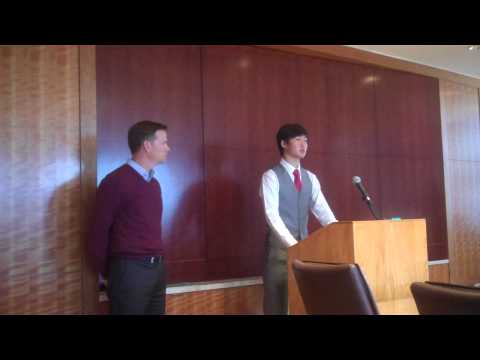 View 5 Items
Amy Donaldson, Deseret News


Three months after U.S. speedskater Simon Cho admitted to damaging a Canadian opponent's skate during the 2011 World Championships, an independent investigation found no evidence he was ordered to do so by his former coach.
Cho made the shocking admission the same day that the New York law firm investigating allegations of abuse against U.S. short track speedskating coach Jae Su Chun and his assistant released their initial report indicating no evidence of abuse against more than two dozen national team athletes.
The allegations of tampering came out in one of the reports offered during the request for arbitration as evidence of Chun's abuse. Cho said he had deliberately tried to avoid the controversy involving Chun and Jun Hyung Yeo.
Chun was placed on leave when the investigation began in September, but both he and Yeo resigned and were banned from coaching in an official capacity after they admitted Cho told them about bending the skate of Canadian athlete Olivier Jean.
Cho said Chun badgered him into damaging the skates of someone from the Canadian team, but Chun adamantly denied it. Cho made the admission and allegations at a press conference the morning White and Case released their findings on the abuse allegations.
Cho said another U.S. speedskater, Jeff Simon, was not only witness to Chun's request, the Olympic bronze medalist said he indicated he'd tampered with the skate to Simon afterward.
Simon, however, said he never witnessed Chun's requests of Cho, and that the only conversation he had with Cho about what he'd done was after the competition was over. Investigators acknowledge that because Simon was one of those athletes who alleged abuse at the hands of Chun, they found his version to be the most credible. Simon alleged Chun's practices led to a second back injury for the skater, who is now competing on the World Cup team.
Simon also said that Chun never asked him — privately or as part of a group — to damage anyone's skates. Instead, Simon said Chun told him to be "disruptive or obnoxious" while in the locker room they shared with the Canadians.
Chun admitted this and acknowledged it was inappropriate. He also admitted to criticizing the Canadian skaters and accusing them of collaborating with other teams to keep the U.S. out of the finals.
The investigation included footnotes from interviews, but many names have been withheld to protect the privacy of those who participated.
Cho has not been training with the U.S. team or competing for a spot on the squad. Because he admitted cheating, U.S. speedskating officials will likely punish him, but he is entitled to arbitration of the issue.
The 80-page report followed a four and a half month investigation into allegations of physical, mental and emotional abuse. The investigators pointed out issues with Chun's style but said they did not find the behavior constituted abuse.
"Coach Chun was head coach at USS for more than five years," the report said. "By all accounts for those years he was intense, demanding and was not a good communicator. On isolated occasions, Coach Chun's intensity crossed the line and he acknowledged that there were several incidents where his conduct was wrong."
Chun and his assistant now work with about a half dozen of the U.S. speedskaters at Steiner Ice Rink in Salt Lake City. He is allowed to attend meets with his athletes, but he must sit in the stands.
While the report did not exonerate Chun, it attempts to provide as much explanation as possible for the deep rift that developed under Chun's leadership.
"We did not arrive easily at our conclusions," the investigators wrote. "While the highly credible National Racing Program group was supportive of Coach Chun both privately and publicly, his behavior was at times not exemplary, and some of the allegations brought by the unsigned skaters were disturbing. It was apparent to us that the unsigned athletes were sincerely hurt by his behavior and that it diminished their love of the sport. We also recognize that the effect of this behavior was worsened by the many broader problems at the USS, the review of which is beyond our mandate. We were asked to address the narrow questions of whether Coach Chun's and assistant coach Yeo's conduct rose to the level of physical or mental or emotional abuse. We have concluded that it did not."
Twitter: adonsports
Email: adonaldson@desnews.com