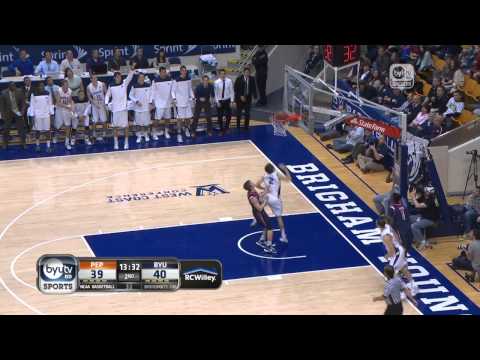 View 33 Items


PROVO — While snow accumulated outside the Marriott Center, it seemed even colder Thursday night inside the Marriott Center for BYU in the first half against Pepperdine.
The Cougars shot a miserable 28 percent over the first 20 minutes, and found themselves trailing by as many as nine to the Waves.
But midway through the second half, BYU finally seized the lead — and things just snowballed from there.
Over the final 25 minutes of the game, the Cougars staged a 34-point turnaround to claim a 76-51 victory over the Waves.
"I think the difference was our focus," said BYU guard Matt Carlino, who scored 13 points and dished out four assists and recorded two steals. "I think we came out a little flat at the beginning, but the second half was different."
Different, indeed — BYU outscored Pepperdine 46-16 and shot 58 percent in the second half.
Tyler Haws scored a game-high 24 points while Brandon Davies chipped in 19 points and grabbed a game-high nine rebounds.
Waves guard Jordan Baker poured in 20 points in the first half, but he took just two shots, and was held scoreless, in the second half.
With the win, BYU improved to 13-4 overall and 3-0 in West Coast Conference play. Pepperdine fell to 9-7 and 1-2.
The key to shutting down Baker?
"Just not let him get easy buckets," Carlino said. "I think he was getting easy, at-the-rim buckets and jump shots with no hands in his face. … It was a team effort in the second half."
"Baker had a tremendous first half, scoring 20 points. In the second half, we were better," said coach Dave Rose. "We were a lot more active, defensively. We contested shots and rebounded the ball a lot better. We guarded his ball screens a lot better in the second half. We got the ball out of his hands. We were a lot more active. Obviously, he got our attention in the first half."
Over the final 20 minutes, BYU got things going both offensively and defensively.
Guard Craig Cusick said the Cougars' offensive performance in the second half "was as a result of our defense. When we get stops, that allows us to get out and run, which is what we like to do. We got some good stops in the second half, which allowed us to space the floor and get open shots. I think it's a direct correlation."
Rose credited Pepperdine for devising a good game plan, and executing it well in the first half.
"We figured out a way to score and kind of broke through and were able to win the game," Rose said.
"Coach Rose and his staff made a great adjustment," said Pepperdine coach Marty Wilson. "They had trouble guarding Jordan Baker in the first half, him getting 20 points and just creating plays. In the second half, they doubled him off the ball screens. They just doubled him anytime he got it and dared our other guys to make a play. We couldn't score for a while."
It marked the second straight game that saw BYU start slowly. The Cougars also fell behind by 12 at San Francisco before coming back to win.
On Thursday, BYU hit just 4 of its first 19 shots from the field.
In the first half, Baker made almost as many field goals as the Cougars. He connected on 7-of-10 shots and finished the half with 20 points as the Waves held a 35-30 advantage at intermission.
Carlino picked up two quick fouls early on and played just eight minutes in the first half.
The Cougars clawed back and took their first lead, 40-39, since midway through the first half when Carlino drilled a 3-pointer with 14:15 remaining. Moments later, the Cougars went up 42-39 as Carlino flipped a pass behind his head to Cusick for a layup on a fast break. It was part of a 12-0 run.
"We did a great job defensively with them in the first half and obviously in the second half we just let it get away from us," Wilson said.
Pepperdine made just three field goals in the first 12 minutes of the second half. The Waves shot 27 percent (6 of 22) in the final 20 minutes.
BYU now travels to Santa Clara on Saturday (2:30 p.m. MST, Root Sports).