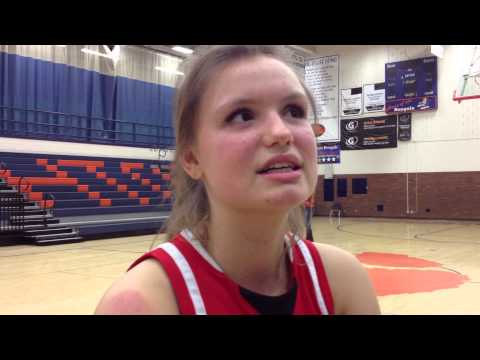 YouTube
COTTONWOOD HEIGHTS — At this point, Alta girls basketball coach Kristi Jensen would prefer to just do away with halftime.
For some reason, the break, which is meant to give teams time to rest and re-group, frequently steals momentum away from the Alta Hawks, especially when they're leading.
"We struggle in the third quarter," said the head coach after the Hawks survived a furious comeback attempt by arch-rival Brighton to earn a 52-51 win Thursday night. "I wish we didn't have to have halftime. I'll just call a timeout, and we can keep playing."
The Hawks led the entire first half — most of the time by double digits — and they owned a 33-25 lead at the now-dreaded break. The third quarter, however, belonged to the Bengals. Brighton's effort began with better defense that held Alta to just five points. They also outrebounded Alta, especially on the offensive boards.
"We weren't rebounding," said Jensen.
It was guard Lindsey Johnson who led the rebounding effort for Brighton with nine in the game. Alyssa Hirchi added five rebounds and 11 points, while Sierra Engle finished with 10 points and six rebounds.
Chloe Ferre started the third quarter well for Alta with five quick points that gave the Hawks a 13-point lead. But three different players answered, and Brighton dominated the offensive boards, getting two and three shots to hold the Hawks scoreless the remainder of the quarter.
Heading into the fourth, Alta held just a one-point lead.
Early in the fourth, Brighton took a quick 39-38 advantage for its first lead since the opening moments of the game. But that lead didn't last long as Alta came back with two consecutive 3-pointers on its next two possessions. McCall Christensen tied the game at 44, and the remainder of the quarter was a nail-biter.
Alta closed the game on a 4-3 run, led by steady guard Adrianna Jensen's ball handling. She finished with six points.
"Adrianna stepped up huge for us tonight," said Jensen. "But, like it has been all year for us, a different player has stepped up each game."
Brighton's offensive effort was led by Maddy Chin, who finished with 15 points. Head coach Jim Gresh was disappointed with the loss but not the effort.
"We got off to a rough start, but fought back into the game, and then just came up short," said Gresh. "I am proud of the girls; they fought hard."
Ferre said she has no idea why her team struggles so much in that third quarter.
"That's one thing we've got to get figured out," said Ferre, who led the Hawks' offensive effort with 13 points.
Jensen praised Ferre's play.
"She has really quiet points," said Jensen. "She did the same thing against Cottonwood. ... She just shoots like it's nothing. She does it all the time."
Ferre has become a focal point of the other team's defense.
"She was getting a little frustrated with it tonight," she said. "Brighton denied her the ball all game and she still had 13 points. It's a big deal. What would we have done without her tonight?"
Ferre was just glad to escape the Bengals' gym with a win.
"I feel like Brighton is one of our biggest rivals — always have been, and always will be," she said.
Twitter: adonsports