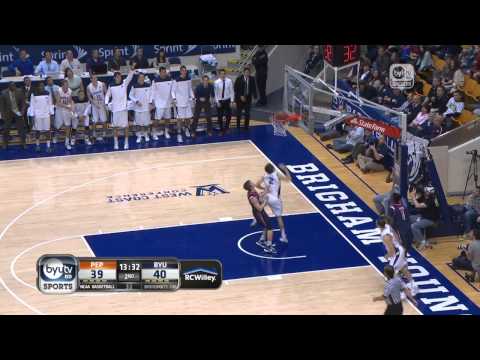 View 41 Items


PROVO — Around the 14-minute mark of the second half Thursday, Pepperdine's Moriba De Freitas bored into the lane and knocked a seemingly stationary Nate Austin to the floor.
No foul was called.
The late-arriving and, up to that point, quiet Marriott Center crowd erupted at the perceived injustice against BYU.
The play and the crowd's reaction seemingly flipped a switch for the Cougars, and they responded with an 18-3 run that all but put the Waves away for good.
"I think (the crowd) helped us tonight to get going," said BYU guard Craig Cusick after his team's 76-51 win. "When they get going, we get going and we all work together. … There is nowhere better to play than here at the Marriott Center. We have the best fans in the world."
Pepperdine coach Marty Wilson is very familiar with the Marriott Center crowd and what impact it can have on a game, having spent several years as an assistant at Utah. For this reason he knew that keeping the crowd out of the game would be key. Through 26 minutes his team kept the Cougar faithful quiet by taking an early lead and maintaining it until the 14-minute mark when everything seemed to snowball.
"It was tough for our guys," Wilson said about the crowd getting into the game. "It's an atmosphere that creates you (to feel) you need to speed up and do some things you don't want to do, so it was a great learning experience for us."
CUSICK AND AUSTIN KEY RALLY: Cusick and Austin weren't the first guys off the bench for coach Dave Rose, but both provided a much-needed spark for the team in the second half. Cusick provided eight second-half points while Austin ripped down six rebounds — but more importantly provided a lot of energy on both ends.
"I thought that Craig and Nate both gave us a great lift," Rose said. "I think it was all about energy — energy, anticipation and just being (lively.)"
Comment on this story
DAVIES GETTING HEALTHY: Brandon Davies sustained an ankle sprain against Virginia Tech on Dec. 29 and hasn't completely been himself since. Although he hasn't missed game time coaches feel that his explosion and lift haven't been what they were pre-injury. Davies looks to be over his ankle problems, however, and provided 19 points and nine rebounds against Pepperdine.
"The second half is the best he's played since he tweaked that ankle," Rose said. "He was really active and he was one of the key factors in handling (Jordan) Baker and being on those ball screens and keeping the ball out of his hands. He was so much more active and aggressive in the second half ... and that's exciting for us."