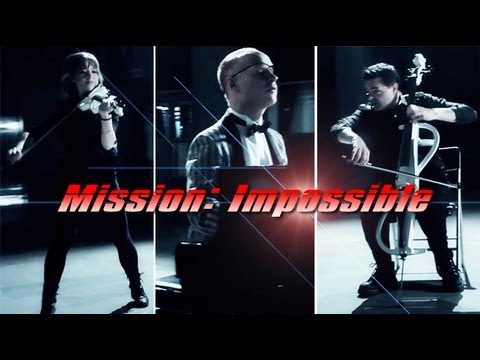 View 2 Items

Mormon pilgrim: Twenty-thousand kilometers (or nearly 12,500 miles). That's how far Wilfried Möller has hiked in his life. He especially loves following the pilgrim trails that crisscross much of Europe. He is also a teacher, who loves imparting the love of lifelong learning to his students. And he is a Mormon. Mormon.org has released a new "I'm a Mormon" video featuring Möller on YouTube video. It allows viewers to meet this delightful gentleman and walk with him for a few minutes along the incredible trails of Europe. If you watch on YouTube, don't forget to click the "CC" button for closed captioning so you can read his powerful testimony as he shares it in German.
Piano Guys: The Piano Guys are joined by a talented gal, Lindsey Stirling, in producing a new Mission Impossible themed video where they dashed around, in true Mission Impossible style, making good use of their musical instruments, both in playing and in fighting, as they worked to uncover the "secret" musical score. Even the cellist's chair made for a few comedic moments. Love it!
Primary printables: Free "2013 Primary Monthly Info Sheets" from the blog Little LDS Ideas are so helpful for Primary leaders currently organizing their curriculum: "On page 1 you will find the year's monthly theme, scripture, and song. For the months with a 'Song of Your Choice' you can just write it in. On page 2 you will find the weekly theme for each month. I also included a column where you can write who is conducting and teaching. If you teach by month then this will work great. But if you teach by week (take turns every week), then you'll just have to write in when you teach/conduct. :) Just print these out and stick them in your presidency binder." Awesome. Visit the blog to download and print.
Football fans: I had to giggle when I saw the title "Monday Night Football" on the Birmingham Alabama Mission blog. And then I was delighted to see a photo of returned missionaries gathering in Utah to cheer on their team. From the mission name itself, I'm guessing they had plenty to cheer about during the Alabama-Notre Dame national championship Monday night.
The Piano Guys go on an impossible mission
The Piano Guys go on an impossible mission with Lindsey Stirling in a newly released YouTube video.
Emily W. Jensen updates "Today in the Bloggernacle" on Mondays, Wednesdays and Fridays, presenting the best from the world of LDS-oriented blog sites. Her extended "Bloggernacle Back Bench" appears on Tuesdays. Email: [email protected]