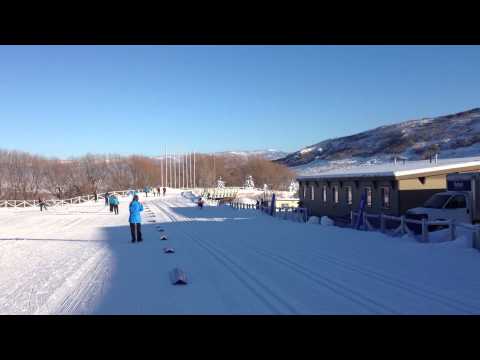 View 7 Items
Amy Donaldson, Deseret News

It's not so much the competition I love but learning what you can do with your life. If you can do this, you can do anything.

—Alfredo De Los Santos
SOLDIER HOLLOW —
The woman leaned into the finish chute and shouted to Alfredo De Los Santos just as he crossed the finish line.
"You're my hero, Freddy!"
Shivering from the cold and unable to raise his arms without assistance, the 43-year-old former Army sergeant managed to smile slightly as he hollered back.
"Oh, you don't want a hero like me!"
But most of the few remaining volunteers, coaches and other athletes couldn't help but openly express their admiration for the perseverance De Los Santos exhibited when he finished a 15-kilometer sit ski race on two broken skis Saturday afternoon.
He finished his race 45 minutes after the second-to-last skier crossed the finish line.
The father of two crashed into a ditch on the first loop of the five-loop course at Soldier Hollow. After John Farra, high performance director for U.S. Paralympic Nordic Skiing, pulled him from the ditch, Farra said he wondered how he'd get De Los Santos back to the team's staging area.
That's when the athlete told the coach he was good to ski. Farra just didn't realize that meant finishing the race.
De Los Santos said he never considered quitting. He suffered during those four laps with skis that splintered and dragged worse with every lap. Temperatures hovered around 20 degrees during the race.
But the man who joined the Army in the wake of the Sept. 11 terrorist attacks has been through worse. He survived being hit by an RPG (rocket propelled grenade) on Oct. 20, 2008, eight months after being deployed to Iraq. As they pulled him from the medical truck, he was shot twice.
"I passed out," he recalled. "The next time I woke up, I was in Germany. A month after I was in Washington, D.C."
In addition to losing his entire right leg, he suffered a traumatic brain injury.
"At the beginning I was having a hard time being around people," he said. "I had a lot of anger. I was really (mad) because I was not the same. Through sport, I was able to realize that I am the same. And life is what you make it."
He struggled with questions, with fear and with the radical changes to his life.
"Am I going to be productive? Am I going to be a good provider for my family?" he said. "I had a lot of concerns."
In the rehabilitation process, De Los Santos said therapists exposed him to "every sport out there."
And despite the fact that he wasn't much of a sportsman before he lost his leg, he tried them all. He fell in love with hand cycling and hopes to represent the country he loves in the 2016 Paralympic Summer Games.
Last winter, he decided to try sit ski, a sport that requires him to propel himself around a mountainous ski course with only his upper body strength.
It is, he said, brutally demanding and intensely rewarding. He loves it so much, he started to think about the 2014 Paralympic Games in Russia.
"I like the pain," he said. "I like the sweat. I like to be around these guys. I get inspired when I see these guys."
He takes a moment to glance around the course at the athletes competing against him.
It is hard to succumb to self-pity when he shares the track with people dealing with situations that are every bit as challenging as his own. It's hard to mourn what you've lost when you hear what others no longer have.
"You can't complain," he said, a seriousness taking over him.
What binds the adaptive sport athletes is that whatever they've lost, whatever they've suffered, they don't quit. Their lives were changed by accident, disease and war. But they don't want pity or praise, they just want the chance to rebuild a new life from the ashes of the old.
In fact, he said athletics has shown him that the only limitations in life are the ones we place on ourselves.
"It's not so much the competition I love but learning what you can do with your life," he said. "If you can do this, you can do anything."
He cringes at the idea of being a role model, of being an inspiration.
"I don't want to be an example for anybody," he said after Sunday's 3K race, which went much more smoothly on new skis. "But if somebody can learn from us, from what they can see around here, if we can inspire somebody to be proactive in life, I think this is the right place to be."
Participating in athletics has returned the joy to his life.
In fact, now he almost sees the tough times as his life's greatest blessing.
"Sometimes I feel like this is the best thing that ever happened to me," he said, the smile returning to his face. "Look what I am doing."
And then he waves his hand at the Soldier Hollow course covered with adaptive skiers preparing for an awards ceremony. He shakes his head.
"I'm 43 years old, and I'm competing with these guys who are 23 or 24 years old," he said. "I'm from New York and I'm in Utah. I'm so grateful."
He repeats something he heard during rehab, and it's something he repeats to himself when the task seems impossible.
"If you can't stand up, you can stand out," he said. "The Lord gave me an opportunity to do sports. … Life is what you make out of it."
Sports has taught him many things, but maybe most importantly, he said, "There is so much to do in life. So just find a way to do something."
Email: adonaldson@desnews.com
twitter: adonsports