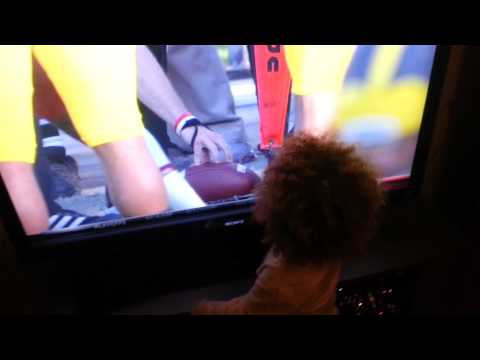 View 3 Items

South Carolina and Michigan were in the middle of an extremely close contest in the Outback bowl when, faced with a 4th down in their own territory, Michigan decided to go for it.
The Wolverines ran for it and got very close to the first down marker. The Gamecocks asked for a measurement, and as you can tell in this video, the ball is very clearly not touching the measurement stick. The result of the play should have been a turnover on downs.
Yet, the referree gave the Wolverines a first down signal. South Carolina coach Steve Spurrier anxiously and enthusiastically argued the call, but to no avail.
Call the next play (it's the video to the left) karma, poetic justice, or whatever you like. JaDaveon Clowney's hit on the Wolverines' running back on the next play gave the ball back to the Gamecocks, the team that deserved it all along.
If you watched the game live, you knew it was a bad call. If you didn't see the game live, allow this 3-year-old to give you the in-depth analysis.
YouTube user jasonfoster09 paused the game on his television at home and recorded his 3-year-old daughter Ada explaining why and how the refs missed a call.
What's worse, missing a call, or missing it so badly that even a 3-year-old can explain to you why you missed the call?
You be the judge.
Landon Hemsley is the sports content manager for DeseretNews.com. Email: lhemsley@deseretnews.com. Twitter: @EarlOfHemsley