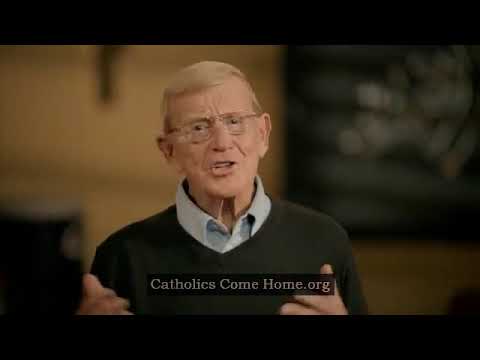 View 2 Items

The setting is familiar, even if the message isn't.
Former Notre Dame football coach Lou Holtz is standing in a locker room giving what appears to be a pep talk. But instead of talking about offensive execution and defensive intensity, he is fervently reminding his listeners that "for victory in life we've got to keep focused on the goal, and the goal is heaven."
The divine pep talk is the newest "evangomercial" from Catholics Come Home, an independent media outreach intended to "inspire, educate and evangelize inactive Catholics and others, and invite them to live a deeper faith in Jesus Christ."
"The key to winning is choosing to do God's will and loving others with all you've got," Holtz says during the 30-second commercial, which is airing nationally this week and during the BCS Championship game Jan. 7. "Sacrifice, discipline and prayer are essential. We gain strength through God's word. We receive grace from the sacrament. And when we fumble due to sin — and it's gonna happen — confession puts us back on the field.
"So if you haven't been going to mass weekly, get back in the game," Holtz urges. "We're saving your seat on the starting bench this Sunday."
Skeptics suggest the commercial is in response to Notre Dame's undefeated season and surprising appearance in the BCS title game. But Catholics Come Home President Tom Peterson insists the idea for the commercial came long before Notre Dame beat Navy in Ireland for its first win of the season.
"The Holy Spirit inspired me to write this script more than a year ago," Peterson told the Catholic Beat. "By God's grace I ran into coach Holtz last July in the Los Angeles Airport, inviting him to star in this evangomercial. So you can understand why I'm confident that God is watching over us and has a wonderful plan in store!"
Evidently that plan includes the likelihood of huge Catholic viewership of the commercial as a result of Notre Dame's appearance in the championship game next Monday.
Catholics Come Home was launched in late 2011 as "the largest television evangelization campaign in the history of the Catholic Church." It was inspired, at least in part, by The Church of Jesus Christ of Latter-day Saints' "I'm a Mormon" campaign.
Comment on this story
"No doubt you have seen the commercials from the Mormons, Methodists, Scientologists … and even Atheists recruiting viewers to come to their church," the organization's website said. "So many ask: Where are the Catholics? With so many fallen-away Catholics, why don't we use the mass media to help our fellow Catholics return to Jesus and his church?"
Another observer noted: "You see the Mormon ads popping up all over online. This is something the Catholic Church should be doing. It's important for the church to use the same forms of media that constantly attack it to evangelize and defend itself."
With or without the Fighting Irish.