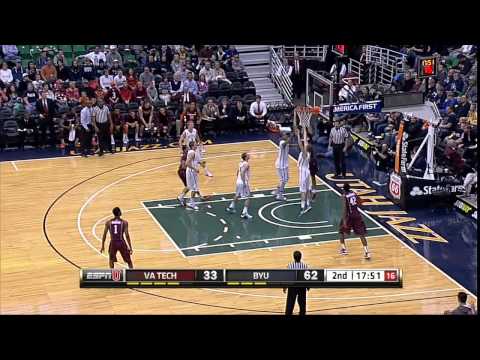 View 4 Items

I hope I don't have to score 40 for our team to win. I feel like we have lots of guys who can score.

—BYU guard Tyler Haws
PROVO — BYU is entering West Coast Conference play coming off perhaps its most impressive victory of the season.
The Cougars (10-4) overwhelmed Virginia Tech, 97-71, last Saturday at EnergySolutions Arena as guard Tyler Haws exploded for a career-high 42 points.
"It's a great win, just trying to build momentum going into our league," Haws said. "Our league is tough. There's lots of good teams. We've got to be ready to go … You can't stay satisfied with anything. We're going to enjoy this one, but we've got to keep getting better and improving."
"That's probably the best part about this win, is the fact that our guys have understood that we've played well against some pretty good teams," said coach Dave Rose.
BYU opens WCC action when it hosts Loyola Marymount Thursday (7 p.m., MT, BYUtv).
The Cougars are hoping to have forward Brandon Davies back. Davies injured his ankle in the second half while trying to block a shot.
Meanwhile, Haws knocked down 14-of-25 shots from the floor, and 6-of-8 3-pointers, against the Hokies.
Will BYU be relying heavily on Haws in conference play?
"I hope I don't have to score 40 for our team to win," Haws said. "I feel like we have lots of guys who can score."
Certainly, Haws attracted the attention of the WCC — if he hadn't before Saturday's performance.
"I think most teams that watch us play have a pretty good idea of how we score and who we score through," Rose said. "It will be a challenge. That's one thing about having a big offensive night. That night out is going to be really important. That's what was so impressive about Brandon. He had a 33-point night at Weber (State), then a game later had 27 points at Baylor. The whole game plan is put together to try to stop him. Hopefully, our guys can be able to respond to big games with another consistent effort."
Rose is looking for contributions from more than just Haws and Davies. Rose has been encouraged by the play of Nate Austin, Josh Sharp and Raul Delgado.
"I thought Nate Austin came off the bench and played really well," Rose said. "Josh Sharp had one of his better nights for us. Raul hit a big shot. All the things we can get from more guys will help our confidence and prepare us for league."
In last week's wins over Northern Arizona and Virginia Tech, Rose started Haws, Davies, Sharp, Matt Carlino, and Brock Zylstra — the same starting five he began the season with before making changes in late November.
It seems Rose will stick with this lineup for the foreseeable future.
"For now, I think it's good," he said. "We're a pretty competitive group and practices are pretty competitive. If we feel like changes need to be made, we'll make it. But right now, this is our group."
Sharp, who scored 10 points against Virginia Tech, including a thunderous dunk, said he's willing to play "wherever coach wants me. If he needs to me to start the game off right, that's something I try to do, be ready right at the beginning of the game."
Are the Cougars, who lost non-conference games against Florida State, Notre Dame, Iowa State, and Baylor, ready for conference play?
"This win (against Virginia Tech) is definitely something that we want to build on," Sharp said. "These last two games we've been working a lot on defense and that's something we'll need to carry on into conference to get some good wins there."
"I think there's a lot of room for improvement on this team," Rose said. "We look forward to next week — a couple of practices without school. We can do some things in the morning and in the afternoon and get ready for our big Thursday game."
Email: jcall@desnews.com Twitter: @AJeffreyCall