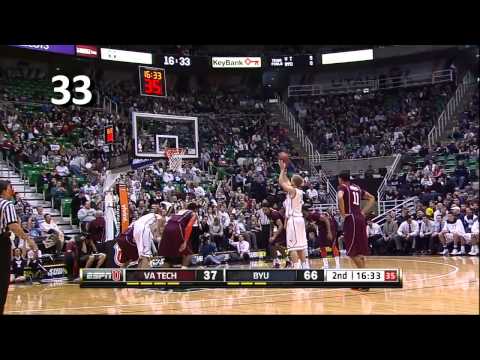 View 5 Items

Catching up as the local sports scene finishes off another year:
• What is with the local basketball teams not being able to hold leads against teams from Southern California? A week after the Utah Utes blew a 21-point second-half lead in a loss to Cal State Northridge, the Utah Jazz wasted a 19-point second half lead and lost to the Los Angeles Clippers.
In the Utes' case, it's more understandable — a young team not used to winning, not knowing how to finish an opponent off. In the Jazz's case, it's a recurring problem that makes you question everything from the coaching to the mindset of the players.
Besides the loss Friday, the Jazz blew a 14-point lead against the Clippers earlier in the month and also squandered a 10-point halftime lead against Memphis when they lost by 13. The Jazz must develop a killer instinct and bury teams when they have them down if they want to have any chance of making the playoffs.
• The Jazz are heading into the new year with a losing record after holding a winning record most of the season. The biggest problem has been a lack of road wins, but now they've lost three straight at home after starting the season 9-1.
When things are going wrong, the easiest thing to question is the coaching, and Tyrone Corbin and crew are certainly not above criticism.
My biggest complaint is the lack of flexibility on which players are played at what times instead of adjusting to the flow of the game. It seems there's a set pattern of when certain players go in and out of the game.
Corbin might have learned that from Jerry Sloan, who used to take John Stockton out for the last five minutes of the first and third quarters of every game for 20 years. But with a young team consisting of no superstars and balanced scoring attack, perhaps the Jazz need to play the guys that are hot more and the guys that are not less.
And one other thing I'd do is play Alec Burks more. The second-year player makes his share of mistakes but is one of the few players who knows how to consistently get to the hoop and draw fouls. Free Alec Burks.
• Maybe Rick Majerus had it right after all.
I used to criticize the late Ute coach for always keeping the door open when it came to entertaining offers for other basketball jobs. Majerus used to say, "I'll always listen,'' which a lot of folks believe hurt his recruiting. However, he continued to win year after year and ended up staying at Utah for 15 years, spurning a dozen or so job offers during that time.
Gary Andersen followed the Urban Meyer approach (I'm certainly not looking for a job, I love where I'm coaching"), saying in a press release, "Logan is where I need to be … we have too much momentum going for me to leave,'' before leaving for Wisconsin.
I have no problem with Andersen leaving to take a job that pays him five times as much money at one of the top football programs in the country. But it wouldn't have been so bad from the Aggies' standpoint if he'd just admitted, like Majerus, that he'd "always listen'' to other offers and not say he was staying in Logan when he wasn't.
• News that Andersen was hiring former fellow University of Utah coach Andy Ludwig as his offensive coordinator at Wisconsin brought out the predictable cries of derision from local fans and folks in twitter-dom. Ludwig was a whipping boy for a lot of Ute fans and media types during his four years as the Utah OC for his inconsistent offenses. But some people forget that his teams had a winning record all four years, including a 13-0 mark in 2008 and produced much better offenses in those four years than the Utes have seen in the last four years.
During Ludwig's time at Utah, the Utes had average ranking of 42nd in the country in total offense with a best of No. 12. In the past four years under four different offensive coordinators, the Utes' average ranking was 80th, including the past two years' rankings of 109 and 105, respectively. Oh for days of Andy Ludwig ….
• Danny Ainge never did it. Neither did Keith Van Horn or Damian Lillard. Jimmer Fredette didn't do it … as a sophomore, anyway.
Tyler Haws is just a sophomore, just a few months back from an LDS mission, but his 42-point performance Saturday against Virginia Tech put him in some elite company in Utah basketball history.
Only three BYU players ever scored more in a game, and only four University of Utah players scored more, while seven Utah State players and one Weber State player topped the 42-point mark.
For the record, the Cougar players were Fredette, Bob Skousen (1961), and Dave Eastis (1960); the Utes were Billy McGill (1961-62), Jerry Chambers (1966), Luther Burden (1974), and Art Bunte (1955). Aggie players included Wayne Estes (1965), Marvin Roberts (1969), Shaler Halimon (1968), Cornell Green (1962), Nate Williams (1961), Max Perry (1961) and Jaycee Carroll (2007), while Weber State had Stan Mayhew (1977). And we can't forget UVU's Ryan Toolson, who scored 63 in a quadruple-overtime game in 2009.
Another dozen or so former Utah collegians are in the 40-point club, including Haws' father, Marty, who dropped 40 on Siena on Nov. 24, 1989.