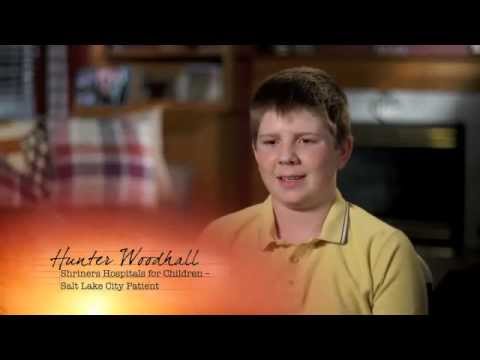 View 3 Items
YouTube

It hasn't ever slowed him down, he's always been a goer. I think some of it is God-given. Kids like that are often given a little something to get through their situations.

—Barb Woodhall, mother
SALT LAKE CITY — Hunter Woodhall plays basketball, football and soccer. He wrestles, runs track and field, snow skis, swims and roller blades. And he does it all with two prosthetic legs.
As an international patient ambassador for the Shriners Hospitals for Children, the 13-year-old Utah boy will be one of four people representing the children's health care system, which operates 22 hospitals in the United States, Canada and Mexico.
"A lot of people don't know what the hospitals do," Hunter said. "They help children just like me, and it's my job to help raise awareness and to show everyone else what they do for kids. I don't know what my life might've been like without Shriners."
He'll be riding on a float in the Tournament of Roses Parade on New Year's Day in Pasadena, Calif., and gets to enjoy the Rose Bowl game featuring Stanford and Wisconsin universities afterward.
Hunter was born with fibular hemimelia, a rare condition that causes a shortening or absence of one of the two bones in the calf. One of his legs lacked a calf bone and the ankle joint of the other leg was fused.
Aside from other, less desirable options, Hunter required surgery to remove both his feet, below the knee. At about 11 months old, he was fitted with artificial legs at Shriners Hospitals for Children in Tampa, Fla.
Without the surgery, he'd likely be in a wheelchair for life.
"I don't know what it would be like to not be able to do the things I love," Hunter said, adding that he lives for sports. His parents and two older brothers, also sports enthusiasts, have helped to instill in him a desire to participate in competitive sporting events, but also never let his disability get him down.
"It hasn't ever slowed him down, he's always been a goer," said Hunter's mother, Barb Woodhall. "I think some of it is God-given. Kids like that are often given a little something to get through their situations.
"We have never treated him differently than our other two boys, so he has kept up with them," she said. "There were certain times it took him longer or required more effort, but he always did it."
The family later moved to Utah, where Hunter grew to become an accomplished athlete, and the Shriners hospital in Salt Lake City has fitted him with a basic pair of prosthetic legs and a set of "C-legs, or Cheetah legs," as he calls them, that allows him more flexibility in sports. A third, waterproof set can be used during wrestling or swimming, which Hunter also enjoys.
"I'll get up, put my legs on and get ready to go to school," he said in a YouTube video made after he became an ambassador in July. "It's just like normal. I don't think much of it because I don't know what it's like to not get up and not put your legs on."
In 2011, the local Shriners hospital fitted patients with 250 prosthetics and more than 4,300 orthotic braces, according to hospital public relations director Mike Babcock. This year, the hospital is averaging about 75 patient visits each month for prosthetic fittings and repairs, helping toddlers take their first steps and making it possible for kids like Hunter to excel at what he loves.
"He is an excellent representative of Shriners Hospitals for Children," Babcock said. "His can-do attitude and fine character inspires caregivers and patients alike."
Through the years, Hunter, who lives in Syracuse, has been astonishing his doctors and therapists with his various feats and accomplishments. While he said he doesn't yet know why he was born without legs, Hunter wants to give others hope and inspiration to get through their hardships, whatever they may be.
"When you just give up, you're like, done," he said. "And all those people you have inspired or will inspire, it's not going to happen anymore."
His mother said that Hunter, who is in 8th grade, has inspired countless individuals, including other patients with a similar situation, as well as friends and family members, including herself.
"If he can overcome things that he has and do what he does, what excuse do we have to not try something new?" Woodhall said.
"It's not easy for him," she said. "He's always had to work at it and work harder than everyone else to be at the same level. He's a great example for other people who don't think they can do something or maybe feel sorry for themselves, whether they're able-bodied or not."
The Tournament of Roses festival, which features flower-covered floats, marching bands, equestrians, and since 1902, the Rose Bowl college football game, will be broadcast Jan. 1, beginning at 9 a.m. MST, on ABC, NBC, the Hallmark Channel, HGTV, KTLA-CW and Univision. For more information, visit www.tournamentofroses.com.
E-mail: [email protected], Twitter: wendyleonards