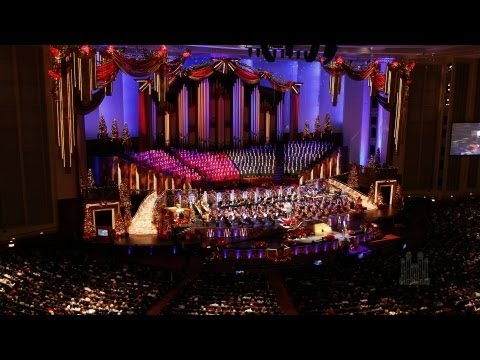 View 3 Items

SALT LAKE CITY — The LDS Conference Center has been used a whole lot during the past six weeks.
To accommodate a number of events, which included the Mormon Tabernacle Choir Christmas Concert, "Music and the Spoken Word" broadcasts and the First Presidency Christmas devotional, The Church of Jesus Christ of Latter-day Saints' vast gathering hall underwent considerable construction.
Along the way, lights were strung, Christmas trees brought in, and practices held — among other things. Now in one short time-lapse video (2:50), each and every behind-the-scene moment during the Conference Center stage's transformation for the Tabernacle Choir Christmas Concert has been captured.
The YouTube video features 107,000 photos taken every 20 seconds during a 35-day period, according to the video's description.
This year's Mormon Tabernacle Choir Christmas concert featured Broadway star Alfie Boe and the veteran journalist Tom Brokaw. Boe performed several Christmas favorites along with his very own version of the "Les Miserables" favorite, "Bring him home." Brokaw then told the tale of the Candy Bomber, Gail Halvorsen, a Utah native and U.S. Air Force pilot. As soon as Brokaw finished the inspiring story snow began to fall into the audience along with thousands of parachutes. It was then that Halvorsen himself appeared on stage after an introduction by Brokaw. Snippets of the entire concert are included in the new video.
Several clips from this year's Mormon Tabernacle Choir, as well as past concerts, can be seen on the Mormon Tabernacle Choir's YouTube channel. The new video "Christmas Concert Time-lapse" was uploaded just last week and has received over 14,000 views.
Sarah Sanders Petersen is an intern for Deseret News where she writes for Mormon Times and other feature articles. She is a communications major and editing minor from Brigham Young University.