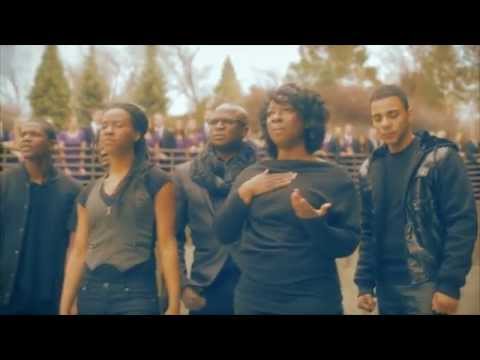 View 6 Items

Alex Boye had received the music for his latest song a year ago. He recorded it a month ago.
But on Dec. 14, the project became a tribute.
After learning of the tragic shooting in Newtown, Conn., the Mormon soloist created a moving video called "Tribute Song for Sandy Hook Elementary." It features Boye, the Bonner family and Utah Valley University's LDS institute choir.
"The day of the shooting in Connecticut was the night before we were recording the video; we were going to record it the next day," he said. "When I saw the images on TV regarding the Sandy Hook Elementary victims, I grabbed hold of my 3-year-old daughter while she was asleep and cried while hugging her really tight.
"The words of the song then just started coming through about children and about having mercy."
It was then that Boye decided to record the song as a tribute.
"We had a prayer before the video shoot and held hands," Boye said. "We talked about it and I said, 'When we sing I want you to picture the faces of all those children. You've got to sing to those kids. Sing to the moms and dads who have lost a child. Sing to the family. Sing to the community. Don't sing to the camera.'"
It is through this video that Boye hopes to bring back hope to all who have been affected.
"At this time of tragedy hope is kind of gone," Boye said. "So we wanted to use this song to bring hope to anyone because it says that during this tragedy there is still some kind of hope and there is a Savior who is aware of this situation."
After recounting the events that have taken place since the production of his video, Boye, a member of The Church of Jesus Christ of Latter-day Saints, described his gratitude for being a part of it.
"I'm so blessed I get a chance to do something like this," Boye said. "I'm starting to realize more and more the purpose of music and why I was given this. There are so many ways I can use it, but I think this is the real thing; this has been so powerful for me."
Boye expressed that as soon as it was known that one of the victims was from Utah, they knew they wanted to donate the proceeds to the family.
"We just thought we would love to do something more personal," Boye said. "I'm not going to get a single penny. Everything will go to the Emilie Parker fund."
The video and song can be purchased at alexboye.redtouchmedia.com.
Sarah Sanders Petersen is an intern for Deseret News where she writes for Mormon Times and other feature articles. She is a communications major and editing minor from Brigham Young University.