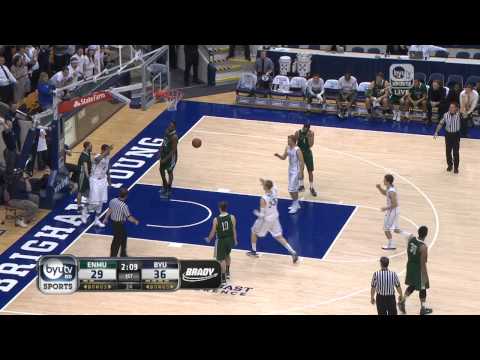 View 3 Items

WACO, Tex. — The BYU men's basketball team faces a tough road test against Baylor on Friday night in a game that will be televised nationally on ESPN2. The Bears have made deep runs in the NCAA Tournament in two of the last three years and should give the visiting Cougars all they can handle.
"(Baylor) is a really talented team that we played close (at home) last year (before) they stung us at the end," said BYU coach Dave Rose. "Our guys are competitors and I know they want to go (on the road) and play again."
The Cougars came up just short against the Bears last season, losing 86-83 after a furious late comeback attempt fell just short. Baylor went on to advance to the Elite Eight of the NCAA Tournament before being bounced by eventual champion Kentucky.
This year, Baylor is led by 5-foot-10 point guard Pierre Jackson, who secured last year's win over BYU by blocking Brandon Davies' 3-point attempt at the buzzer.
"Pierre Jackson is still running the point and he's extremely quick," Rose said. "He has a lot of freedom and he has all kinds of offensive game as far as his ability to make shots and create for his teammates."
Jackson averages a team-high 19.3 points and 6.0 assists per game. He'll be feeding the basketball down low to a potent frontcourt that features 7-foot-1 center Isaiah Austin and 6-foot-9 forward Cory Jefferson, who average 13.9 and 13.2 points respectively.
BYU enters the game playing its best basketball of the year after winning big against Weber State on the road and blowing out Eastern New Mexico at home. BYU received good bench play in both contests as players vie for consistent roles in the rotation leading up to conference play.
Through 11 games this year Rose has used multiple starting lineups and rotations, but wants to settle on an eight- to nine-man rotation by the time conference play rolls around.
"The players will determine (the rotation) by how they play," Rose said. "We've got three or four really good, tough teams to play before we get into (WCC play). Hopefully by that league season we have a pretty good idea about how we're going to go."
Rose went with Brandon Davies, Nate Austin, Tyler Haws, Matt Carlino and Craig Cusick against both Weber and Eastern New Mexico, but shuttled different players in and out consistently.
The team has combined for 53-percent shooting in each of its last two games after struggling for a three-game stretch. A season-high 27 team assists against Eastern New Mexico led to good shots and a high percentage.
"I think we're progressing pretty well and the key is to be consistent," said Rose. "I think you can see just by watching our team that we have certain areas we're really solid in and other areas we're looking to improve and get better. If we play more together we'll continue to improve."
Cougars and Bears on the air
BYU (8-3) at Baylor (7-3)
Friday, 7 p.m. MST
Ferrell Center Waco, Tex.
TV: ESPN2 Radio: 1160 AM, 102.7 FM
Email: [email protected]
Twitter: @BrandonCGurney