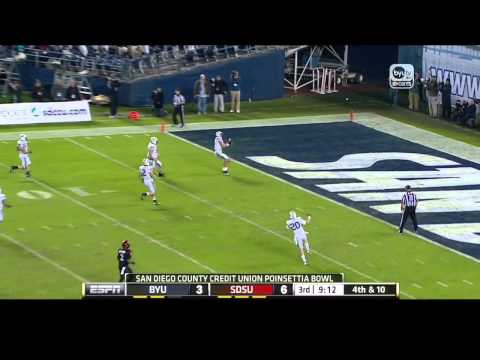 SAN DIEGO — The BYU Cougar football team scored three touchdowns in the fourth quarter and left the San Diego State University Aztecs behind for a 23-6 victory in the San Diego County Credit Union Poinsettia Bowl, and here are all the highlights.
- BYU severely struggled offensively, and had it not been for an illegal block on an SDSU pick-6, the game might have gone the other way. Fortunately for the Cougars, Ziggy Ansah and Kyle Van Noy came to play.
- The game was slow early on, SDSU managing two field goals in the first quarter. BYU locked the Aztecs down defensively after the first quarter and never let them score again.
- The BYU defense also scored the majority of BYU's points on the night. Kyle Van Noy's forced and recovered fumble in the end zone gave BYU a lead, and his interception returned for a touchdown late in the game sealed the deal.
- BYU's only offensive touchdown on the evening came, again, after BYU forced a turnover. Jordan Johnson recovered a fumble at the SDSU 14-yard line. Following the turnover — on a drive that started within the red zone — Jamaal Williams ran 14 yards for the score.
Landon Hemsley is the sports content manager for DeseretNews.com. Email: lhemsley@deseretnews.com. Twitter: @EarlOfHemsley