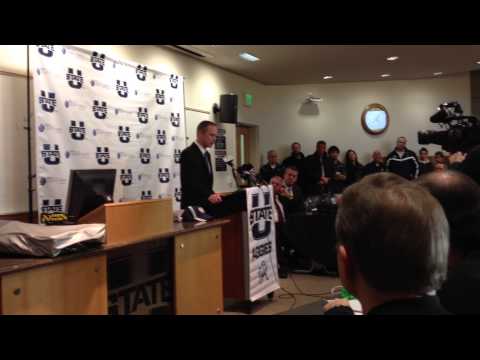 View 8 Items


LOGAN — Wearing the suit his wife bought for him just a few hours earlier, Matt Wells was introduced as Utah State University's 27th head football coach Thursday afternoon inside a packed auditorium adjacent to Romney Stadium.
Emotional and engaging, Wells expressed gratitude for the opportunity to lead the team he once quarterbacked and sought to reassure players and fans about the future of Aggie football.
"I don't know if words can describe it," the 39-year-old father of three told a standing-room-only crowd that included about three dozen players. "To say it's a dream come true is probably an understatement. … It's a neat feeling; it's humbling; it's an honor. To know what this place was when I was here, to win a bowl game then and to be part of the second team to win a bowl game, it's pretty neat for me. Let's face it, there are 125 of these jobs in the country, and I'm fortunate enough to get one."
Wells is only the second Utah State graduate to become the Aggies' head coach. The Oklahoma native was hired by Gary Andersen two years ago as USU's quarterbacks coach and recruiting coordinator. He was promoted to offensive coordinator last winter.
On Thursday he got emotional when talking about Andersen, who has left USU to become the head coach at Wisconsin after four years in Logan. It's still not clear which assistants will follow Andersen to Wisconsin and which may stay with Wells.
"I wouldn't be here without him," Wells said of Andersen. "Two years ago, he hired me sight unseen, and the rest, as they say, is history."
He said Andersen "showed me the blueprint" and helped build the program that languished at the bottom of the college football ranks until Andersen took over after the 2008 season. This year was the team's best season as it finished with a bowl victory, conference title and a No. 18 national ranking. Wells said he's learned a great deal from Andersen about how to recruit and inspire players and promised not much would change under his leadership. "I promise I'm going to lead you every day and help make this a special time in your life," he told his players. "The nice thing is we're not starting over. We're just going to build on this thing."
Wells said his vision for Utah State is simple: win conference titles and bowl games every season. According to him, players will also continue to do well in the classroom and be good community members.
"That will not change under me," he said.
Wells, who played quarterback at Utah State from 1993-1996, choked back a little emotion when taking about the program he once played for and the fans who love it.
"This thing wasn't built overnight," he said, crediting the school's administration, Andersen and donors with their commitment to the program. "Cache Valley has a lot to do with (the success). It's pretty neat to see. ... It's a blue-collar valley, with a hard-work, chip-on-your-shoulder feel. Those qualities are reflected in the program."
Utah State administrators wasted no time hiring a replacement for Andersen, who accepted a job with Wisconsin on Tuesday night after a remarkable four years at the helm of Utah State that ended with a conference title last month. When news broke last Tuesday evening, Andersen called every player on the Aggie roster to explain his decision. Thursday was the first public acknowledgement of Andersen's departure.
"Continuity is everything, but it means nothing if we don't have the right person," said Athletic Director Scott Barnes, who introduced his new coach before the old coach has even publicly said his goodbyes. "We have the right person for sure."
The fact that Utah State administrators moved quickly to retain the team's offensive coordinator as the new head coach comforted players who were shocked and worried after news broke about Andersen's departure.
"We were shocked, stunned," said linebacker Jake Doughty, who attended the press conference at Romney Stadium along with dozens of his teammates. "It happened so quick, so we weren't quite prepared for it. But it happens, and fortunately we got a great guy. ... It's never an easy thing to deal with, but I think they handled it really well."
Wells was not caught off guard by the reports of Andersen's departure, as Andersen had told Wells that change might be coming.
"We talked. I don't remember exactly when," said Wells. "I knew he was going to explore options. He told me, 'You're going to get a shot here, and if not, you can come with me.'"
Wells said he didn't spend much time considering whether he wanted to move to Wisconsin or stay in Logan.
"It's a no-brainer," he said.
The future could be bright for Wells as the Aggies return experience and talent as they move to the Mountain West Conference next season.
"We'll have 58 returning letterman and 16 senior starters coming back next year," he said. "We'll continue to do what we've been doing, running a spread, up-tempo offense. ... And we'll run it between the tackles in the fourth quarter when we need to like we did last week."
The crowd erupted into applause when Wells pointed at his offensive linemen standing in the back of the room.
Wells said he will be working on hiring a staff while recruiting.
"I hope it's not just me," he said when asked of which staff members might be staying. "We have quality young coaches; quality veteran coaches. Some may have other opportunities, but we'll dive into those conversations right away. They're guys who've helped build this foundation."
He said it helps that the transition transpired during an NCAA recruiting dead time, so coaches are limited to phone calls. He's been on the phone with coaches expressing interest in working for him — something he said wouldn't have happened if the team hadn't been winning games.
"Recruiting is the lifeblood of a program," he said. Recruiting Utah athletes, being LDS mission friendly and working to bring Polynesian players to Logan are all focal points of his recruiting efforts, he said.
Wells said he'd like to have assistants in place when students return to campus in January, and he said he'd look for coaches who share his view that players are the most important pieces of the program.
"This isn't a touchy-feely thing," he said. "We coach them hard; we love them hard. This is a player-driven program, not a player run program. ... The decisions we make will be what's best for those kids. That's what's most important."
Barnes said he talked with several players before offering the job to Wells and all supported the hire.
"I love this guy," said offensive lineman Jamie Markosian. "I think it's awesome. He's a great coach. He's a players' coach. ... It definitely brings normalcy back. Having coach Wells as a foundation is a huge positive for us as a team. It's a player-driven team and we plan to drive it."
Twitter: adonsports
Email: adonaldson@desnews.com