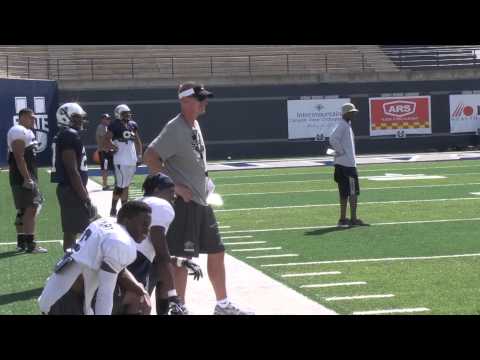 View 2 Items

RENTON, Wash. — One day after news broke that Utah State head coach Gary Andersen had accepted an offer to leave USU for Wisconsin, the thoughts of two of the guys most instrumental to Andersen's success in Logan turned toward the players the highly successful coach would be leaving behind.
Both Seattle Seahawk rookies Robert Turbin and Bobby Wagner — who starred at USU during Andersen's first three seasons and helped turn the Aggies' program around — said Wednesday afternoon at the Seahawks' practice facility they were worried about their former teammates.
"I feel for the players just because they're coming off a big, big season," Wagner said. "But I also for coach A(ndersen) as far as putting his self in a position to take care of his family. When Turb and I were at Utah State, we always wanted to go to the next level. We did whatever we had to do to get to that next level.
"I don't know if he wants to coach professionally. If that's what he's looking to do than whatever step he needs to do to do that, he can. But I feel for the players as far as a great coach like that leaving, especially after a big season. "
Asked for his initial reaction to the news, Turbin kept things very simple: "Congratulations," he said. "Congratulations, I guess."
Turbin — who declared for the NFL Draft after a tremendous junior season at USU in which he, Wagner and others led their school to its first bowl appearance in 14 years — said he still cares enormously about Utah State's program.
"The program and the players and the guys that I went to war with every Saturday just mean a whole lot to me," he said. "That's why you've got to talk to the players that he left because I feel for those guys. I'm so happy they were able to accomplish what they were able to accomplish this year."
This fall, while Turbin and Wagner have been attempting to help the Seahawks reach the NFL postseason, their former university went on to record the most wins in school history (11) while accomplishing a litany of other things.
Both players say they believe Utah State can continue to be very successful in the post-Andersen era.
"I think the sky's the limit," Turbin said. "They've still got Chuckie (Keeton) running the QB. Their running backs — they still know how to get it done.
"Those guys, they know how to do it. They passed down the message that started with myself and Mike (Smith) and Kerwynn (Williams), and they're just going to continue to pass that thing down. They've still got great defensive players. They'll be all right. They'll be all right.
Wagner agreed.
"There's a lot of talent down at Utah State," he said. "We got talent down there, and I think Turb and I and Mike Smith, we're proof of it. So they're going to continue doing what they're doing no matter who's coaching 'em."