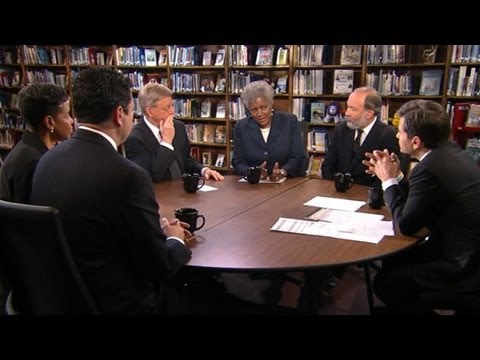 View 4 Items
ABC News


This is a highly emotional set of circumstances for all of us. Somehow, we also have to take a step above that and really be thoughtful about what could be an effective set of policies.

—Rep. Jim Matheson
SALT LAKE CITY — Members of Utah's congressional delegation are taking a wait-and-see attitude to President Barack Obama's call for new gun control policies.
Spurred by the tragic elementary school shooting in Connecticut, the president vowed Wednesday to send Congress measures for reducing gun violence by January. Obama put Vice President Joe Biden in charge of an interagency task force to create concrete proposals and pledged to push them through without delay.
Obama also supports reinstatement of a ban on assault weapons, a policy Utahns in Congress oppose.
"I hope they are successful in coming up with solutions to the challenges we face, rather than using it to pursue an anti-gun agenda or to further limit the rights of law-abiding citizens," Sen. Mike Lee said.
Obama said he knows it is a complex issue with deeply held passions and political divides.
"I will use all the power of this office to help advance efforts aimed at preventing more tragedies like this," he said. "It won't be easy, but that can't be an excuse not to try."
A little more than half — 51 percent — of the members of the new Congress that convenes next month have received funds from the National Rifle Association's political action committee at some point in their political careers, according to the Sunlight Foundation.
And 47 percent received money from the NRA in the most recent race in which they ran, including Republican Sens. Orrin Hatch ($5,000) and Lee ($2,500), Democratic Rep. Jim Matheson ($6,950) and GOP Rep. Jason Chaffetz ($1,500).
Matheson was the sixth highest recipient in the House and tops among Democrats in 2012. Rep. Rob Bishop and Congressman-elect Chris Stewart, both Republicans, did not receive NRA donations in 2012.
"The numbers give insight into the depth and breadth of support that the nation's most powerful gun lobby commands," according to the Sunlight Foundation, a nonpartisan organization based in Washington, D.C., that promotes government transparency.
"They also highlight the primary obstacle to quick action on gun control in response to last week's massacre in Newton, Conn. — deep and long-lasting allegiances to the National Rifle Association," according to the foundation.
Matheson said the Biden-led panel should cast a wide net for ideas, and solutions must be deliberate and comprehensive.
"This is a highly emotional set of circumstances for all of us. Somehow, we also have to take a step above that and really be thoughtful about what could be an effective set of policies," he said.
Obama said the country needs to "look more closely at a culture that all too often glorifies guns and violence. And any actions we take must begin inside the home and inside our hearts."
Matheson said he might reintroduce a bill that enforces the age rating on video games at the point of sale.
"We don't allow people to buy cigarettes until they're a certain age. There are plenty of rules in place were ID is checked for age. That's just one of many ideas. That's not going to solve it on its own," he said.
As for a ban on assault weapons, Matheson said it didn't reduce gun violence in the country while it was in place. But if it's an issue people want to raise, it ought to be on the table for discussion.
The president said the proposals would not be just about weapons.
"We need to work on making sure access to mental health care is at least as easy as access to a gun," Obama said.
Rep. Jason Chaffetz said earlier this week that the mental health aspect needs to be dealt with.
"I think we absolutely should talk about the intersection of a lethal weapon and (how) it relates to mental health," he said on ABC's "This Week." "Absolutely we've got to have that discussion in this country."
On Wednesday, Chaffetz said he's looking forward to what the task force comes up with.
"It will be interesting to see what the recommendations are," he said.
A spokesman for Sen. Orrin Hatch said the senator shares the desire to try and prevent future tragedies.
"As for the specifics of the task force announced by the president (Wednesday), it will depend on what recommendations are sent to Congress," Matthew Harakal said.
Hatch has not supported a ban on assault weapons in the past, he said.
E-mail: romboy@desnews.com, Twitter: dennisromboy