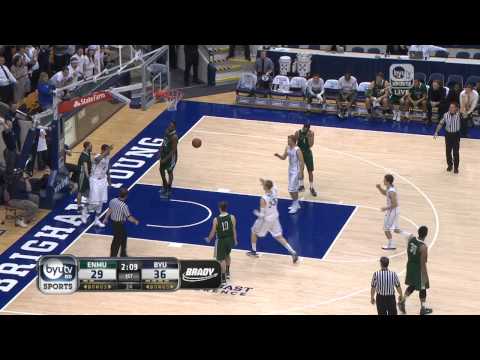 View 44 Items

PROVO — BYU slogged through a bit of a slow start to handle visiting Eastern New Mexico as expected Tuesday night at the Marriott Center. The 95-62 win provided an opportunity for coach Dave Rose to use a lot of different players off the bench with almost all of them responding well.
Brandon Davies led the team with 19 points in just 21 minutes of play, followed by Tyler Haws and his 17 points. Agustin Ambrosino led the bench effort with 14 points in 22 minutes of play.
Eastern New Mexico was led by guard Rodney Blackmon (14 points) and Jordan Romero (12).
For the second game in a row Ambrosino was the first player off the bench and he responded well to the early call. His perimeter shooting was off a bit early, but he did his best to provide a physical presence inside on both ends of the floor. He ended with a team-high eight rebounds.
"His biggest strength right now for this team is offensively he can stretch the defense and defensively he's a pretty physical player, a good rebounder," Rose said about Ambrosino. "We're just looking for him — and any player who comes off the bench — we're looking for them to give us a lift, to come in and make positive plays for the team."
Other key contributors off the bench included true freshman Cory Calvert who chipped in 10 points on 4-5 shooting, and Raul Delgado, who provided a spark on both ends for the second game in a row.
The Western Nebraska transfer immediately contributed two steals upon entering the game early in the first half, the second of which led to a thunderous breakaway dunk.
"I like to get the crowd going," Delgado said about his dunk. "When you get a dunk it hypes the team and gets people going, so when we get the opportunity to make one we'll make it happen."
Delgado's slam gave BYU a 27-13 lead at the 10:36 mark, but Eastern New Mexico fought back to pull within five points, 27-22, at the eight-minute mark of the half. From there the Cougars were able to extend the lead to 44-29 at the half and never looked back.
BYU used a smothering defensive effort to in the second half to bury the Greyhounds early and then cruise to an easy win.
"I thought our effort was really good (defensively)," Rose said. "I thought we challenged shots pretty well, but they spread you out so much that they were able to get some offensive rebounds in the game. So that's something we'll look at tomorrow and get better."
Throughout the game Rose shuffled players in and out at a rapid pace and completely emptied his bench in the first half. Rose's goal was to get good looks at each player before trimming his rotation to just seven or eight guys before league play.
"The players will determine that with how they play and with how they do," Rose said about his rotation. "We have three or four really tough teams to play before we get into league play, but hopefully by that league season we know which way we want to go."
BYU is now 8-3 with the win and will travel to take on Baylor this Friday. Eastern New Mexico drops to 5-6 with the loss.
Email: bgurney@desnews.com
Twitter: @BrandonCGurney