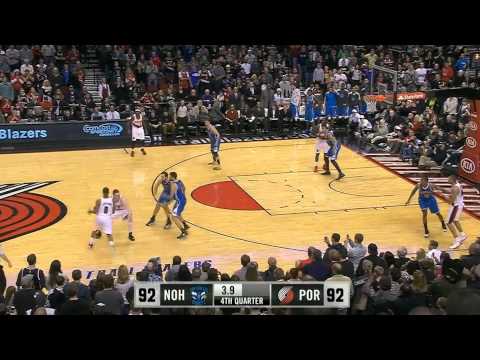 View 2 Items
Pinwheelempire

Portland Trail Blazers rookie point guard Damian Lillard has done several impressive things this season, and he added a game-winner against the New Orleans Hornets to his resume Sunday night.
With the score tied at 92 and with the hand of New Orleans' Ryan Andersen in his face, Lillard drained a 3-pointer from well beyond the 3-point line with 0.3 seconds left.
"That was a tough ... shot," Blazers forward J.J. Hickson yelled out.
2
comments on this story
Lillard, the former Weber State star, salvaged the game for the Blazers, who led by 10 with 7:33 remaining and by as much as 16 earlier in the game. It was the third consecutive win for the Blazers, who are currently 11-12 on the season.
Lillard finished with 16 points and four assists and again asserted his front-runner status as the NBA's Rookie of the Year. Lillard currently holds the No. 1 spot on NBA.com's Rookie Ladder.
In Portland's previous game, a win over the dominant San Antonio Spurs, Lillard had a stellar 29 points, seven rebounds and six assists.
The former Weber State University Standout is averaging 18.8 points, 6.3 assists and 1.1 steals per game.
EMAIL: bbullock@desnews.com
TWITTER: @BullockBlaze