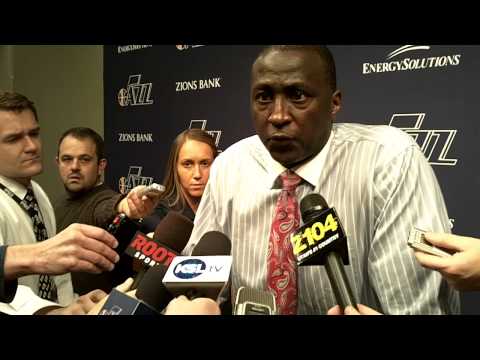 View 34 Items
Whitney O'Bannon, Deseret News




They pushed us out past the 3-point line. We couldn't get into our sets, couldn't really run anything. Everything was really stagnate.

—Jazz forward Paul Millsap
SALT LAKE CITY — The Utah Jazz struggled again Saturday night, falling 99-86 to the Memphis Grizzlies.
Even while the Jazz suffered only their second home loss of the season, there were some beautiful non-basketball moments at EnergySolutions Arena during a time when heartwarming is needed to soothe the rampant heartbreaking.
Before tipoff, the team held an honorary moment of silence in which thousands of Jazz fans and players from both teams somberly thought of the innocent victims killed Friday morning in the senseless Connecticut elementary school shooting.
Following that, local singer B. Murphy, a former member of The Platters and the Salt Lake Community Choir director, offered a stirring and powerful rendition of the national anthem.
Another highlight came during a first-half break.
Two young boys were blindfolded, thinking they were taking part in a promotional contest. The crowd of 18,183 got louder to help guide the youngsters as they wandered toward their reward.
Unbeknownst to the brothers, their surprise prize was a woman in a military outfit.
It was their mom, Jeanne Izatt, a petty officer in the Navy who's been serving an eight-month tour in Afghanistan.
Connor and Chance hadn't seen her since April.
The three Syracuse residents had an extended and emotional reunion at midcourt — and were quickly joined by other family members — while receiving a standing ovation from touched fans.
None of that helped the Jazz win this basketball game.
But the healing and happiness were welcome additions to hoops on this night.
During his pregame interview, Corbin hinted that he was concerned non-basketball distractions might hinder his players from being up to their best.
It didn't help that the Jazz are only in town for two days after returning from Phoenix and before leaving on their annual pre-Christmas trip, which includes stops in Brooklyn, Indiana, Miami and Orlando.
"There's so much stuff going on in the world. There's just so much stuff going on right now and the holidays are coming up," Corbin said. "It's a lot to have on your mind before you go out. You have a few days to get back before Christmas and you have to take care of your shopping and family things. It can be a setup for us."
Unfortunately for the Jazz, that played out when Saturday's game was decided in the second half — in part due to their uninspired play but also because of the invigorated hustle and effort of the Grizzlies.
"Tough loss, you know, on the home floor," Corbin admitted.
Ultimately, Memphis (15-6), led by Zach Randolph's 25-point, 16-rebound effort, showed it was more desperate to end its three-game losing streak than the Jazz (13-12) were to get back to their winning ways.
That was especially true in a flat-out ugly third quarter when the aggressive and physical Grizzlies scored 28 points while holding the more timid Jazz to a measly 10 points, their worst quarter of the season.
"They're a physical team," Jazz forward Paul Millsap said. "They get down and dirty. They pushed us out past the 3-point line. We couldn't get into our sets, couldn't really run anything. Everything was really stagnate."
Utah missed 17 of 20 shots in that oddly awful stretch, when Memphis' defense clamped down on Al Jefferson, who had 14 of his team-high 21 points in the first half, and blocked Utah's passing and cutting lanes with an active and stifling defensive push.
"We rushed some shots," said Corbin, whose team had a 54-44 halftime lead. "I thought they had us out on the floor too much. We didn't attack the basket. We didn't have the same energy we had in the first half."
As such, what was once a 12-point first-half lead for the Jazz eventually became a 16-point deficit against one of the best teams in the NBA.
"When you struggle against a really good team," Millsap said, "you're going to pay for it."
The end result was Utah's second loss in as many nights and by a near-identical score after losing 99-84 at Phoenix. This sudden losing skid comes on the heels of a season-best four-game winning streak.
6
comments on this story
Not exactly how the Jazz envisioned going out on their holiday tour.
Millsap, just one of four Jazz players in double figures with 12 points, admitted this loss was one that hurt.
"Yeah, it does a little bit. We're not sound," Millsap said. "We're going to go on the road and try to get all these wins and that just means we got to make up down the road somewhere.
"We're not going to look at it as a setback. It's a loss," he added. "It's one we wish we could have back, but now we've got to move on."
EMAIL: jody@desnews.com
TWITTER: DJJazzyJody