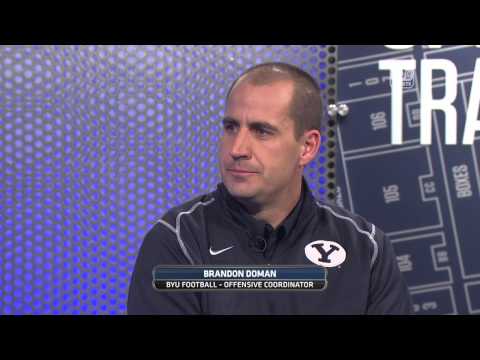 BYUtv Sports
The BYU Cougars are bowling once again this season. The Cougars have made a bowl game every season under head coach Bronco Mendenhall.
This season they face off against former Mountain West Conference foe San Diego State in the Poinsettia Bowl.
In this BYUtv sports video, offensive coordinator Brandon Doman examines some of the pressing issues within in the program this season, including the quarterback situation for the bowl game, how the offense will attack the Aztecs, and some of his reflections of the offense's season performance.
Video: Doman discusses QB situation
BYU offensive coordinator Brandon Doman sits down with True Blue host Dave McCann to discuss BYU football leading up to the Cougars' bowl game against San Diego State.
Contact Gregory Rose at grose@deseretdigital.com or follow him on Twitter at @GRoseDDM.