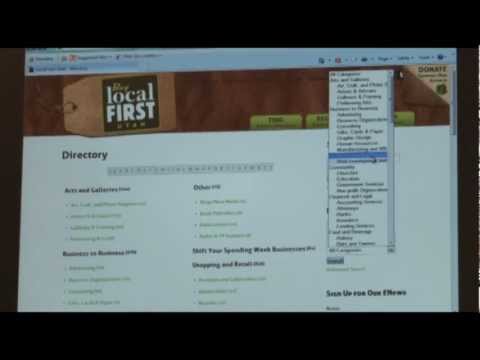 View 2 Items
Utah League of Cities and Towns

SALT LAKE CITY — As the holiday gift-giving season gets into full swing, it may be wise to consider buying locally produced gifts. Recent research conducted by Civic Economics concludes that buying products from local merchants benefits individual communities in a big way.
According to the executive director of Local First Utah, Nan Seymour, the dollars spent in locally-owned stores injects four times as much as non-locally produced goods into our own economy.
"We actually learned that nearly four times the amount of revenue stays here in the economy when you purchase locally," Seymour said. "That's how the numbers came out, so it's a pretty stunning difference. The impact is a big deal."
The money spent on one item has a ripple effect on the economy: According to Seymour, those dollars pay the wages of local workers, the purchase keeps tax dollars in the community, and money spent in locally-owned stores and on locally-provided services also results in higher charitable contributions. Utah is already higher than the national average in the percentage of income donated to charity.
Many Utah merchants are also displaying tags on products with the message, "Shift Your Spending." The message is part of a campaign sponsored by Local First Utah, asking shoppers to consider shifting at least 10 percent of their purchases to locally-owned, independent businesses. The Civic Economics study also concludes that shifting 10 percent of purchases from national chains to local retailers and restaurants would keep $487 million in the Utah economy.
Local First, a non-profit organization that seeks to protect independently owned business, explains that the benefit exceeds dollars and cents. Seymour explained the benefit to the local character of the community: "In supporting local businesses we're supporting creative and authentic expression and we're also supporting truly engaged relationships, and that's what makes community."
ULCT is a non partisan, inter-local, government cooperative, working to strengthen the quality of municipal government and administration. The League serves as a voice for Utah's 245 cities and towns at the county, state and federal level.