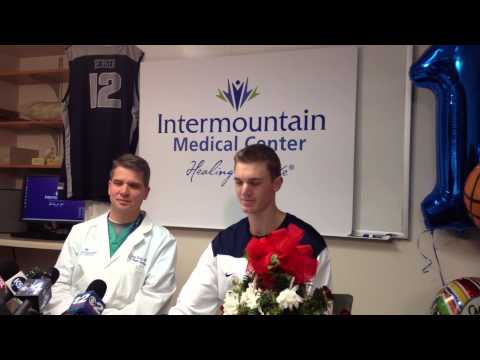 View 13 Items

MURRAY — Saturday night, Danny Berger plans to return to the arena where his life could have ended just five days ago.
"It's really scary," said the 22-year-old Utah State basketball player who suffered a cardiac arrest that caused him to collapse into the arms of a teammate during practice at Utah State's Spectrum Tuesday afternoon. "I just thank God, first of all. Everything had to be perfect in place to have that happen like it did. There's been so many times in my life that God has had his hand … in what happens in my life. So I'm thankful for him."
Just four days after his heart's rhythm was so rapid and erratic that it threatened to kill him, Berger met with reporters to discuss the miraculous chain of events that will allow him to return to play on the basketball court in as little as three weeks.
"I can't deny the hand of God in the whole situation," he said, choking back emotion. "I know for a fact that he used people to still have me here, so there's a purpose to why I'm here."
The actions that allowed Berger to quickly and completely recover from such a harrowing incident are so rare they surprised even his doctors.
"There are a lot of hands in what we call the chain of survival," said Dr. Jared Bunch of Intermountain Medical Center's Heart Institute. "It's early recognition; it's determining that there is no pulse; it's shocking the heart; and in his case, he was at Logan (Regional Medical) emergency room and they looked to preserve his brain, preserve his neurologic function (by cooling his body).
"Many of these steps were done in a very quick and synchronized fashion, which I haven't seen in many years of treating cardiac arrest. He has complete restoration of his memory, even short-term memory. We often see this is lost after cardiac arrest for a month. He can remember up to the time he fell, and I haven't seen that. It's amazing to me that that's so intact."
Generally, the survival rate for an incident like this in a large city is 5 to 10 percent, Bunch said. In cities that are proactive and prepared with education and AEDs, the survival rate could be as high as 40 to 50 percent — but many of those suffer some neurological damage.
"It's truly amazing," he said. "Every minute survival goes down about 10 percent."
In Berger's case, the AED was placed on his body within 30 seconds of him passing out thanks to his roommate and the team's manager, Jesse Parker.
"He just went on for a second play, and I swear, it was before he even hit the ground, I was already out of my chair and sprinting up the tunnel because … I don't know, for some reason," said Parker.
Bunch said he'd never seen a reaction so quick.
"It's truly, truly remarkable," he said. "And it shows the importance of having these devices in our schools, in our sporting events."
Parker sprinted the 50 to 60 yards to the trainer's office and then sprinted back to where Williams was treating Berger. Parker said Williams usually has the AED on the water jug, but it wasn't there — a fact he noticed earlier that afternoon.
"I'm glad I noticed before practice," he said. "Seconds could have made a huge difference for Danny."
Berger said he had no hint his body would betray him Tuesday.
"That day I felt great," he said. "It just felt like a normal practice."
He was walking onto the court to run a play when he felt dizzy.
"I pretty much (remember) all of practice, up until the last little play that we had," Berger said. "We were just getting ready for our next opponent, and it kind of felt like you know, when you're in bed and you stand up too quick and you get lightheaded. It felt kind of like that and then things just kind of went black, and the next thing I knew, I woke up in the hospital. I don't have very much memory loss."
The junior was groggy but grateful.
"There were a lot of people there when I woke up," he said smiling. "I'm grateful for all of their support."
It wasn't until later that doctors explained exactly what happened to him Tuesday.
"I was in a bed and I was hooked up to all of this stuff, so I figured something had happened," he said, shooting a grin in Parker's direction. "I wasn't really sure. They explained it to me, and I started to remember some stuff that happened."
Bunch said doctors at Intermountain Medical Center went to work trying to determine whether or not it was basketball that caused his "fatal" heart rhythm.
"This is one we can't fully explain," said Bunch, who won over his patient (as well as Aggie head coach Stew Morrill) quickly because he's from Logan and wears his hospital ID on a Utah State lanyard.
Doctors do know it wasn't just physical exertion that caused Berger's cardiac arrest.
"We don't have clear evidence that the basketball in itself triggered the fatal rhythm," he said. "We know he has a tendency to it, to have these rhythms, but because there is a missing link with basketball, by all means we want him to go back and play."
Instead of having him give up the sport he loves, Friday morning doctors inserted a tiny defibrillator — about the size of a silver dollar — onto his heart. It will monitor his heart rhythm and shock his heart, preventing another cardiac arrest.
"These new defibrillators give us an advantage as physicians in that they communicate with us over the phone," said Bunch holding the device up for reporters. "So he goes home to his dorm, and if he's been active and has some of these fast rhythms, then he'll be hearing from me that night."
Bunch said there are other NCAA athletes who rely on an internal defibrillator to help protect them from a cardiac incident.
The only visible evidence of Berger's surgery Friday was the fact that his left arm must remain in a sling, holding his elbow next to his body. He is happy to be heading back to Logan on Saturday and grateful he'll be attending the game with his family.
"I'm hoping to be at the game tomorrow," he said when asked of his plans after discharge. "I feel really good. I feel like normal."
Twitter: adonsports
Email: [email protected]