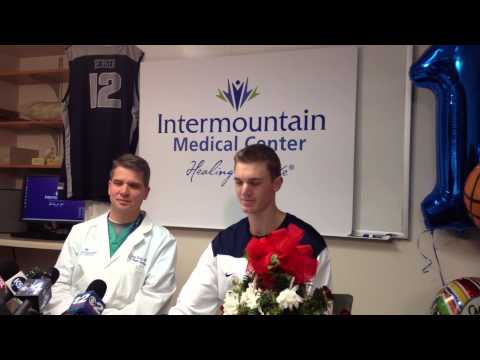 View 24 Items

Danny Berger spoke with the media today about the dangerous incident that nearly cost him his life. He also revealed some new information about the status of his health and his course of action moving forward.
In a press conference, Berger revealed that a defibrillator has been implanted in his heart to help mitigate the risk of any future cardiac episodes. He said that if all goes well, he could be cleared by doctors to be back on the court within three weeks, shortly after USU's WAC schedule begins.
Tuesday, Berger collapsed into the arms of teammate Kyisean Reed during practice, and his heart stopped. Team trainer Mike Williams administered CPR and used a defibrillator to keep Berger alive. Berger was then rushed to Logan Regional Hospital and then flown to Intermountain Health Center in Murray.
Because of the incident, the game between BYU and USU, originally scheduled for Wednesday night, was postponed. Saturday's game between the Aggies and Western Oregon, however, is scheduled to be played. Berger told the media as part of his news conference today that he and his family would be in attendance at that game.
More details on this story are forthcoming.
Landon Hemsley is Sports Content Manager for DeseretNews.com.