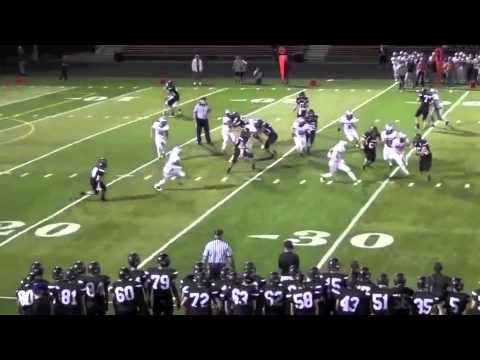 View 2 Items

A lot of people have compared me with Van Noy and he's obviously a great player, but I don't want to be the next Kyle Van Noy — I want to be the next Johnny Ragin.

—Johnny Ragin
WILSONVILLE, Ore. — It can work in the favor of a college recruiter to recognize talent early and offer a scholarship before other schools take notice.
That certainly was the case with BYU's latest football commit. Johnny Ragin committed to Cougar coaches Thursday night, choosing BYU over Oregon State, Colorado and Cal, among others.
"BYU fits best with everything I want to accomplish as a person and a football player," Ragin said. "It's where I felt most comfortable and I'm very happy with my decision to sign with BYU."
Ragin is a 6-foot-3, 215-pound outside linebacker prospect who was recognized early by BYU outside linebacker coach Kelly Poppinga as someone who could play at the next level. BYU evaluated him quickly, offered early and eventually won him over after many other schools made overtures.
BYU's early interest played well, but certainly wasn't the primary factor in his decision. Ragin did his due diligence, taking unofficial visits to schools and exploring all his options. Ultimately, it was a visit to BYU that put the Cougars in a great spot.
"I took my mom with me to see the school up close and we both felt so comfortable and right with everything BYU has to offer," Ragin said. "I'm not LDS, but the Honor Code is something I love about BYU and it's how I choose to live, so that was a big factor in my decision."
Another factor was BYU's defensive success this past season. Ragin made sure to watch BYU this fall and hopes to provide some of the same play Kyle Van Noy has provided from the outside linebacker position.
"A lot of people have compared me with Van Noy and he's obviously a great player, but I don't want to be the next Kyle Van Noy — I want to be the next Johnny Ragin," he said. "I'll obviously do well watching and learning everything I can from him while I'm at BYU and I admire him and his abilities, but I want to be my own player."
Ragin committed shortly after receiving an in-home visit from BYU coaches. He sat down with his mother and talked over his goals and where they both felt most comfortable.
45
comments on this story
"It was tough because I had a lot of quality programs interested in me and it was tough to turn them down, but BYU is the complete package, in my mind," Ragin said. "Like I said, I love everything about the program from the coaches, the academics, the Honor Code. No other school had as much to offer me as BYU did."
It also helps that he'll have his good friend and teammate Tanner Shipley joining the program too.
"It helps and it's great that Tanner (Shipley) will be signing with me, but I'd be going to BYU without Tanner and he'd do the same," Ragin said. "We want to go to BYU because it's the best school for us individually and what we want to become. It's a school rich in tradition and I always feel a positive vibe when I'm there and when I talk to coaches."
Email: bgurney@desnews.com
Twitter: @BrandonCGurney