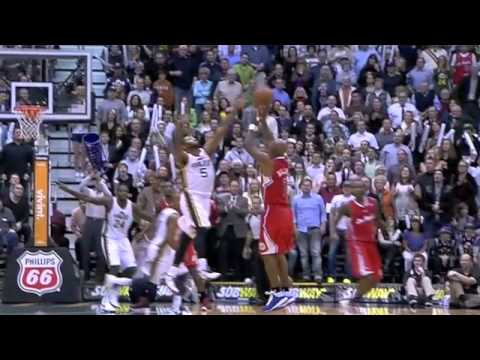 View 2 Items

SALT LAKE CITY — The Utah Jazz won't get a win back, but the team received a small consolation prize for Monday's disappointing 105-104 loss to the Los Angeles Clippers.
L.A. guard Chauncey Billups received a warning from the NBA for flopping against the Jazz late in the Clippers' comeback win.
With Utah up two and just over a minute remaining, Billups shot a 3-pointer and was contested by Jazz point guard Mo Williams. After heaving up his trey try, Billups pushed off of Williams' chest and flopped to the floor.
NBA referee Dick Bavetta called Williams for a foul, even though replays clearly show he went to Billups' left side and did not initiate any contact.
Billups hit two of three free throws, tying the game that the Clippers went on to win despite trailing by 14 points at one time and 10 in the fourth quarter.
In the NBA's new flopping policy, the league reviews questionable calls and punishes players for participating in "any physical act that appears to have been intended to cause the referees to call a foul on another player."
Players get an initial warning, but the fines start to rack up after that. The second violation incurs a $5,000 fine, with each proceeding flop becoming increasingly costly — from $10,000 for the third flop to $30,000 for the fifth violation. After that, players are subject to larger fines and suspension.
Brooklyn's Reggie Evans and Gerald Wallace are the only NBA players who have tallied two flopping violations and a $5,000 fine so far this season. However, Billups became the seventh NBA player to be warned.
The list of players with one flop warning includes: Billups, Cleveland's Donald Sloan, Minnesota's JJ Barea, Oklahoma's Kevin Martin and Houston's Patrick Patterson.
In the locker room that night, Williams only sighed and didn't verbalize a response when asked about the foul call with 1:14 remaining in Monday's loss.
"Big call,'' Jazz coach Tyrone Corbin said in postgame remarks. "The referee saw it a different way, but I thought we did everything we could to challenge the shot and it gave them three shots.''
Corbin continued: "I thought it may have been an offensive foul because one of the points of emphasis (for officials) is you can't flail your arms and legs out. Mo did a good job of challenging the shot. I thought he tried to get to the side of it.''
NBA.com has posted video of the incident.
EMAIL: jody@desnews.com
TWITTER: DJJazzyJody