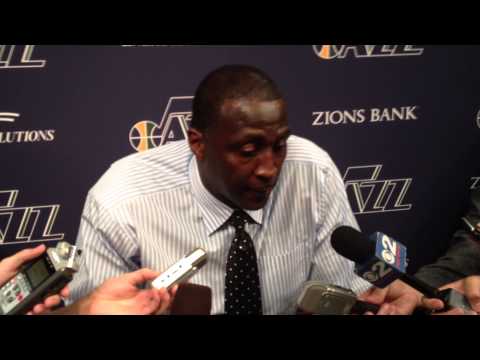 View 39 Items
Landon Hemsley



SALT LAKE CITY — Utah Jazz fans left the arena with an unfamiliar pit in their stomachs Monday night.
Likewise, their team's locker room had an unusually somber tone following a down-to-the-wire game against the Los Angeles Clippers.
For the first time this season, the Jazz lost at EnergySolutions Arena, a fact that was just as evident by the mood in the building as it was by the final score of 105-104 in the Clippers' favor.
"Tough one," Jazz coach Tyrone Corbin admitted.
The Clippers (11-6), led by a 30-point, 11-rebound outing from Blake Griffin, survived a wild finish to end the Jazz's six-game winning streak at home and send Utah (9-10) to a third-straight setback.
The Jazz had strong showings by their two former Clippers, with Mo Williams scoring 20 points with a season-high 12 assists and Randy Foye adding 19 points.
But Utah stumbled down the stretch after Williams put the home team ahead 99-97 with his third 3-pointer at the 1:29 mark.
The funky finish came to a conclusion with the ball in Foye's hands after he nearly pulling off a miraculous last-second comeback. He hit a 3-pointer with 1.2 seconds left, tipped the inbounds pass out of bounds with 0.7 seconds remaining and then stole Billups' second errant inbounds toss by the 3-point line but couldn't get a shot away before 0.0 showed up on the clock.
With that, the Jazz blew a game in which they led by as many as 14 points, shot 74 percent in the first quarter and 57 percent overall.
"It's a tough loss," Foye said. "We came out there and I felt like we played really hard and we played together. They made some shots at the end, a couple of bounces didn't go our way, but overall I think we played pretty hard."
They took it hard, too.
Feelings of frustration and bitterness that permeated a home team's locker room that's used to celebrating wins instead of experiencing losses could be summed up by a scene seen multiple times at the end of the game.
The visual?
An exasperated look on Williams' face accompanied the guard holding up outstretched arms as he seemed to silently scream "What happened!?"
That look repeated itself several times, including when Williams was called for a questionable foul on a Chauncey Billups 3-point attempt with just more than a minute left. Billups hit two of three free throws, tying a game that had been in Utah's control for most of the night.
The final minute included offensive miscues by the Jazz, including Williams taking an off-balanced 3-pointer that missed badly and Al Jefferson having a game-tying dunk attempt swatted away by Clipper center DeAndre Jordan with 26.9 seconds left.
"That was the play of the game," L.A. guard Chris Paul said. "I watched it happen. … (Jordan) had to cover a lot of ground."
Jefferson didn't see the 6-foot-11 foe that came out of nowhere.
"If I would've seen, I pretty much wouldn't have went up with a shot like that," Jefferson said. "He just made a heckuva defensive play."
Paul preceded that by making a heckuva offensive play.
First, he drove past his defender, 6-foot-8 DeMarre Carroll, who was screened by Jordan. Then, CP3 blew past Jefferson before laying it up and putting Los Angeles ahead for good with 39.9 seconds remaining at 101-99.
"(Jordan) grabbed my arm. Then he said something to me about it," said Carroll, adding that it was tough guarding Paul because he had to go through about 10 picks every time. "It's part of the game to get away with stuff. It's one of them things I've got to learn. I know next time I'm just going to have to go through the screen."
Even while falling apart, the Jazz somehow had a chance in the final seconds thanks to Matt Barnes missing two of four free throws.
Williams cut the deficit to 103-101 with 6.2 remaining, but Jamal Crawford then seemed to clinch it with a pair of freebies at the 5.7 mark.
Foye had other things in mind.
The Jazz's starting shooting guard hit his third triple with 1.2 seconds and teased the remaining fans from the crowd of 19,067 by making that final steal before time ran out.
That put an end to the game and a fourth quarter that saw the Clippers outscore Utah 32-21 after the Jazz shot 41.2 percent.
What happened in that devastating fourth quarter?
"They won the game," Jefferson said after breathing deeply and taking a few uncomfortable seconds to respond. "That's all I can say."
How long will it take the Jazz to recover from this heartbreaker?
"Soon as I get done talking to the media," said Jefferson, who had 16 points and 10 rebounds
"It's tough right now," Williams said. "But I'll go have dinner with my wife and we'll go home and watch a movie and it will be all right."
NOTES: Marvin Willliams (concussion-like symptoms) and Derrick Favors (strained right arch) did not play and are day-to-day. … The Jazz scored a season-best 31 points in the first quarter. … Utah was outshot at the free throw line, making 11 of 15 compared to 17 of 24 for the visitors. ... Utah held a moment of silence in honor of the late Rick Majerus, the former Ute coach who died on Saturday.
EMAIL: [email protected]
TWITTER: DJJazzyJody