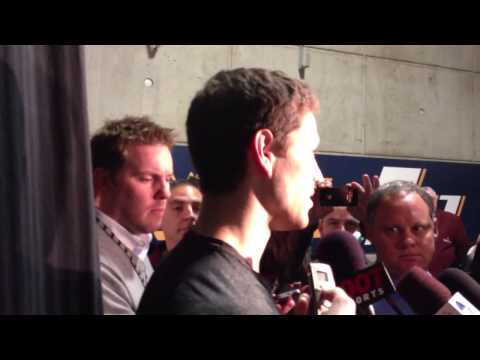 View 2 Items
Layton Shumway, Deseret News

SACRAMENTO, Calif. — Jimmer Fredette finished week four of the NBA season with productive back-to-back outings. After logging no playing time earlier in the week in a 113-97 win over the Los Angeles Lakers, Fredette provided 14 points combined against the Utah Jazz.
His best game was Friday night's game at EnergySolutions Arena, which the Kings lost 104-102. Fredette logged 17 minutes and finished with 10 points on 3-4 shooting from 3-point range.
The former BYU great was greeted with a mix of cheers from the BYU fans and boos from the Utah fans, but was grateful for the attention. "I hope forever," Fredette told the Sacramento Bee when asked how long he expects to draw so much attention in Utah. "I hope for as long as I come back it will still be like this. You guys mean a lot to me."
The next night, Fredette played just six minutes, but scored four points and dished out an assist in Sacramento's 108-97 home win over Utah. For the week, he went 4-8 from the field and 3-4 from the line, averaging just short of eight minutes per game.
Fredette has done the most with his limited playing time and is fourth in the NBA in scoring per 48 minutes played with a 31.9 average. Kobe Bryant, Carmelo Anthony, LeBron James and Kevin Durant are the first, second, third and fifth-ranked players in the same category respectively.
The Kings play Minnesota and Indiana at home this week followed by a game at the Los Angeles Clippers.
Email: [email protected]
Twitter: @BrandonCGurney