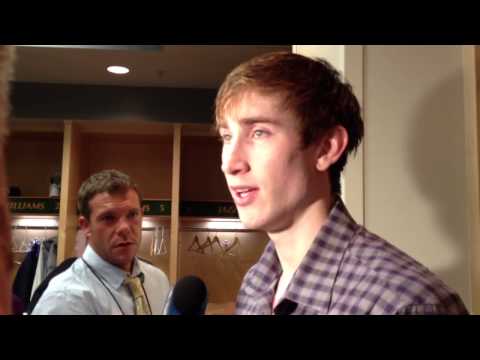 View 25 Items
Layton Shumway, Deseret News



We let them hang around too long, we were fortunate to pick up the win.

—Jazz guard Gordon Hayward
SALT LAKE CITY — Forget all that wee-hour-of-the-night Black Friday stuff.
On a day when shoppers braved insane crowds for early-bird discounts, the Utah Jazz provided some late excitement with a come-from-behind 104-102 victory over the Sacramento Kings.
Those snoozing due to shopping frenzies or tryptophan overdoses missed out on a doozy — and not just because Jimmer was in town.
A Jazz rally — after trailing by as many as 13 in the fourth — was capped by a game-winning jumper by Gordon Hayward with 4.5 seconds remaining.
"We let them hang around too long," said Hayward, who had a game-high 23 points off the bench. "We were fortunate to pick up the win."
Even if they were luckier than someone scoring a big-screen TV at Kmart, the Jazz improved to 7-6 overall and 5-0 at home with their third consecutive victory.
"I thought we won with a lot of grit, gut, staying together," Jazz coach Tyrone Corbin said.
They needed all of that to overcome their nemesis from California's capital.
For about three-and-a-half quarters, Utah's defense struggled mightily against the Kings, who dropped to 3-9 overall and 0-5 on the road.
Tyreke Evans (19 points), Marcus Thornton (18 points), Aaron Brooks (17 points), DeMarcus Cousins (14 points) and even Jimmer Fredette (10 points) took turns making the Jazz's D look like it was driving aimlessly in a crowded parking lot for much of the night.
That, however, changed when it mattered most.
Shortly after Fredette put the Kings up by 12 with his third 3-pointer with 7:09 remaining, the Jazz flipped on the domination switch.
Offensively, Utah went on a 17-2 run in the latter half of the fourth quarter. Defensively, the Jazz stymied the Kings, who shot 50 percent overall but stunk in crunch time. Sacramento was held scoreless for a three-and-half-minute stretch, only scored five points in the final 6:30 and was squelched on 10 of its final 12 possessions.
"There wasn't anything to talk about. We knew we weren't doing what we were supposed to do," Jazz center Al Jefferson said. "The fourth quarter, either we're going to do it or we're going to lose this game. So I guessed we decided to do it."
The Jazz played most of the game without starting point guard Mo Williams, who sprained his ankle and didn't return after briefly attempting to play hurt in the second quarter.
It was his backup, Jamaal Tinsley, who made the biggest defensive play of the game.
Eighteen seconds after his off-balanced go-ahead attempt badly missed, Tinsley stole the ball from Kings point guard Aaron Brooks with 14.9 seconds remaining.
The 6-0, 161-pound Brooks went berserk, complaining about being fouled by 6-3, 188-pound Tinsley, who purposely got low and played the Kings guard physically because he knew he couldn't push him off due a size difference.
Clean steal? "Of course it was. Is that a trick question?" Tinsley said, smiling. "It felt good, but you've just got to move on to the next play. The next play is trying to get a winning bucket and that's what we did."
After taking a timeout, Tinsley had the ball in his possession and a play drawn up for Jefferson. That wasn't available, so the Jazz playmaker found Hayward wide open after curling off of a big-time screen set by Derrick Favors.
"I knew Gordon was going to come up and he happened to hit a good shot for us," Tinsley said.
"I was wide open," a confident-feeling Hayward said, "and hit the shot."
Backup James Johnson missed a runner in the lane as time expired, leaving the Kings empty-handed after they led for most of the game.
Sacramento's meltdown, which included a couple of last-minute silly fouls by DeMarcus Cousins that led to Utah free throws, spoiled a good showing by Fredette. The former BYU star, who was both cheered and jeered every time he touched the ball, scored 10 points and hit three 3-pointers in an unusually high 17 minutes.
"It just crumbled for us a little bit. We weren't making shots at the end or executing as well as we should have," Fredette said. "They shot well, made shots down the end and played good defense."
The teams had so much fun, they'll do it again tonight in Sacramento (8 p.m., ROOT).
NOTES: Mo Williams sported a walking boot on his right foot and said he will try to see how his ankle feels today in hopes of playing in the Jazz-Kings rematch. … The Jazz went with a new starting lineup that included Mo Williams, Randy Foye, Marvin Williams, Paul Millsap and Jefferson. ... Back to a bench role, Favors had a monster game. He scored 16 points, grabbed 14 rebounds and blocked two shots. Marvin Williams, meanwhile, made Corbin look like a genius by scoring 20 points in his reclaimed starting role. … Backup point guard Earl Watson made his season debut, playing for the first time since having surgery to repair a torn meniscus in his right ankle last April. Watson connected with a high-flying Hayward for the alley-oop of the night. … Millsap didn't play in the fourth quarter — a defensive move by Corbin. …. Attendance was just 18,000.
EMAIL: [email protected]
TWITTER: DJJazzyJody