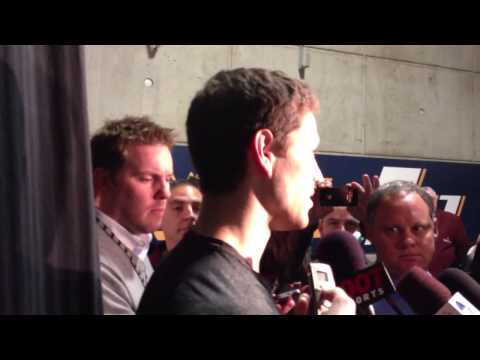 View 5 Items
Layton Shumway, Deseret News

I've just got to keep playing hard, keep playing well when I get out there and get an opportunity to play.

—Kings guard Jimmer Fredette
SALT LAKE CITY — Fans of that favorite son of BYU basketball otherwise known as Jimmer Fredette certainly got their money's worth in Friday night's game between the Utah Jazz and the Jimmer's current team, the Sacramento Kings.
Fredette, who led the country in scoring with nearly 29 points per game and ignited that amazing national phenomenon called "Jimmermania" with his dazzling 3-point shooting and scoring displays during the 2010-'11 collegiate campaign, came in off the Kings' bench to score 10 points in Sacramento's frustrating 104-102 loss to the Jazz.
Fredette drilled 3-of-4 shots from 3-point range, the last of which was a purely Jimmer-esque 26-footer that gave the Kings what looked to be a seemingly safe 95-83 lead with 7:09 remaining. But Utah staged a fierce rally down the stretch, outscoring Sacramento 21-7 after that to grab a two-point victory.
Kings coach Keith Smart was pleased with Fredette's performance.
"I thought Jimmer did some good things," Smart said. "Jimmer came in, gave us the right minutes, played the right way on the floor and made some plays. He got is in the nice position along with the rest of the group, and he did his job.
"Coming off the bench, he played tonight and did the right things. So I was happy with his performance on the floor. He gave us something that you need on the road, someone off your bench to be positive.
"... He provided a spark and some positivity," Smart said. "It's good to see the growth of him, not playing a lot of minutes over the last couple of games, but he's always ready to play and perform. Sometimes it's well, sometimes it's not, but overall I thought he did a good job tonight."
Up to this point, Fredette's NBA career has been pretty frustrating for him — and for his fans. Last season as a rookie, he struggled with his shooting and averaged 7.6 points per game while playing nearly 19 minutes a night.
But thus far this season, his playing time has been trimmed to just 9 minutes a night, although his shooting numbers are way up. He's still averaging over 6 points per game while seeing limited playing time, including a scant eight-second stint earlier this week against the Los Angeles Lakers.
"I always hope to play every night," he said before Friday's game. "I hope that I can get a few minutes every night. ... I'm excited to go out there and see what happens and, when I get a chance, hopefully I'll play well.
"I think I've played well, but it's up to the coach ultimately to choose who's going to be playing and a lot of it is just matchups. So sometimes you've just got to go through it and play the best that you can when you have the opportunity. I feel like I've played well and hopefully I'll continue to do that. You never know what's going to happen down the road, but it's not up to me.
"A lot of guys have gone through this same thing," he said of his minimal playing time, "and you've just gotta stay positive, keep playing hard, keep producing when you're on the floor and playing hard in practice, and you'll always have a spot. And when you get that opportunity, make the most of it. That's what you have to do, and that's what keeps you positive, knowing that it's a long career if you make it one. So you've just got to work as hard as you can every time.
"I've just got to keep playing hard, keep playing well when I get out there and get an opportunity to play. That's all I can do at this point. Just stay positive, help the team, work hard in practice and continue to strive to do my best."
Fredette checked into Friday's game to start the second quarter and was booed loudly as he brought the ball up the court. But he hit a couple 3-pointers in that period, plus a free throw, to help the Kings to a 53-52 halftime lead.
He wound up 3 for 7 from the field overall but was 3 for 4 from 3-point range with an assist and a blocked shot.
"It's always great to see," he said of the crowd's reaction, which turned into a roar when he hit his first 3-pointer. "I'm appreciative of all the fans. I was here (at BYU) for four years, so I have some great relationships here and I'm grateful that they still follow my career, so it's always a great time.
"I made some shots. I was just being aggressive, just shot the ball when I was open, just playing the game, so that was good. But I'm obviously disappointed with the loss."
He and the Kings will get another shot at the Jazz tonight in Sacramento.
EMAIL: rhollis@desnews.com