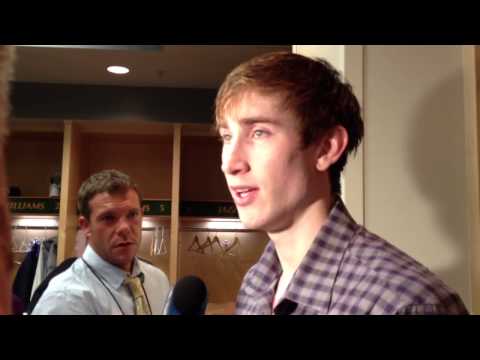 View 20 Items
Layton Shumway, Deseret News




SALT LAKE CITY — Gordon Hayward scored 23 points off the bench, including the game-winner with four seconds left, as the Utah Jazz overcame a 12-point fourth-quarter deficit to defeat the Sacramento Kings, 104-102, at EnergySolutions Arena on Friday night.
The Jazz trailed 97-85 with 6:30 remaining, but they made 11-of-12 free throws down the stretch, setting up a final possession with 12 seconds remaining and the score tied at 102. Hayward hit an open jumper at the top of the key for the winning shot.
The Jazz started slowly in both the first and third quarters and trailed for most of the game, often looking lost on offense and slow on defense. A second-quarter injury to starting point guard Mo Williams did not help.
But Hayward and Marvin Williams provided a scoring spark in the second and fourth quarters, working hard on both the offensive and defensive ends.
Former BYU guard Jimmer Fredette played much of the second and fourth quarters, scoring 10 points on 3-7 shooting. He was frequently booed when he handled the ball, but the boos turned to cheers when he made shots, including three 3-pointers.
Hayward's 23 points led all scorers. Tyreke Evans scored 19 for the Kings.
Email: lshumway@desnews.com; Twitter: TheShums