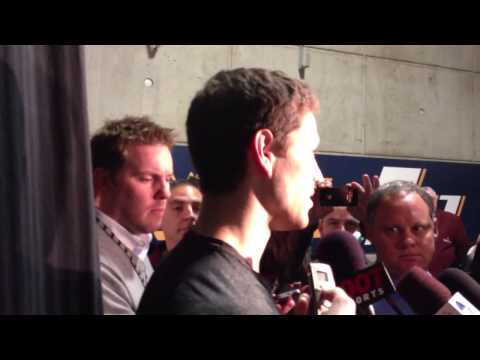 View 2 Items
Layton Shumway, Deseret News

SALT LAKE CITY — Gordon Hayward scored 11 points off the bench, but it wasn't quite enough to overcome a slow start as the Utah Jazz trail the Sacramento Kings at halftime, 53-52.
The Kings leaped out to a 16-9 lead in the first quarter behind a balanced effort from Aaron Brooks, Jason Thompson and Tyreke Evans. But Hayward and Marvin Williams led a comeback that drew the Jazz within four at the end of the quarter.
Former BYU star Jimmer Fredette started the second quarter for the Kings, greeted by a chorus of boos from the EnergySolutions Arena crowd. The boos turned to cheers, however, when Fredette nailed two 3-pointers.
The Jazz stayed close in the second quarter with Hayward, Williams and Derrick Favors providing the scoring punch. Randy Foye also hit two 3-pointers.
Starting Jazz point guard Mo Williams left the game with a sprained right ankle in the second quarter and did not return. But the Jazz were bolstered by Earl Watson, who made his season debut.
Hayward and Marvin Williams led the Jazz with 11 points each. Aaron Brooks led Sacramento with 10.
Email: [email protected]; Twitter: TheShums