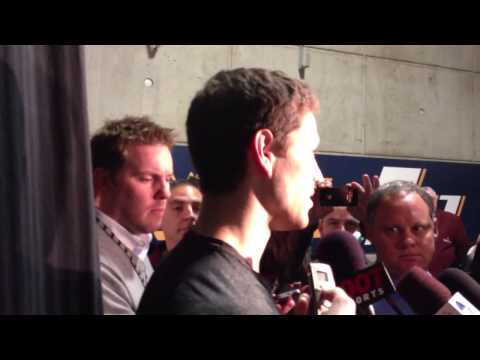 View 2 Items
Layton Shumway, Deseret News

Earl is a little more up-tempo defensively, getting into people, and Jamaal is good at weaving in the lane and creating passes that you don't think could get through.

—Jazz guard Gordon Hayward
SALT LAKE CITY — Jazz head coach Tyrone Corbin will not go with the same starting lineup tonight against the Sacramento Kings that he has used in Utah's previous two games.
Instead of Utah's so-called "big" lineup featuring Al Jefferson, Derrick Favors and Paul Millsap, the Jazz will bring Marvin Williams back into the starting lineup. He'll play small forward, along with Jefferson, Millsap, Randy Foye and Mo Williams. Shooting guard Gordon Hayward, who started Utah's first 10 games of the season, will continue to come in off the bench.
The Jazz will also be bolstered by the return of backup point guard Earl Watson tonight. The 6-foot-1 guard, who's entering his 12th NBA season, hasn't played yet this season and last stepped on the floor for the Jazz in April, when he injured his right knee and required surgery, which ended his 2011-'12 campaign prematurely.
Watson has been working out with the team since training camp began and has finally been cleared by team doctors to see playing time in a game.
Hayward said the addition of Watson to the lineup will add another dimension to Utah's attack on both ends of the floor.
"Earl has experience in the system, being here the last two years," Hayward said, "and he definitely pushes the ball up the court and plays extremely hard, especially defensively. He forces a lot of turnovers and he brings a lot of energy, so it'll be good to have him back."
Last season, Watson averaged 3.0 points, 2.4 rebounds, 4.3 assists, 1.1 steals and 20.7 minutes of playing time per game in 50 games for the Jazz.
Hayward was asked to compare Watson with Jamaal Tinsley, who has served as the primary backup point guard behind Mo Williams in Watson's absence.
"They both do good things," Hayward said. "It's a little different, I think. Jamal is a little more — I don't want to say slower, because Jamaal pushes the ball up the court really well, too, and makes good advance passes — but Earl is a little more up-tempo defensively, getting into people, and Jamaal is good at weaving in the lane and creating passes that you don't think could get through."
THE RETURN OF JIMMER: Legendary former BYU superstar guard Jimmer Fredette, now in his second NBA season, will be with the Kings for tonight's contest.
Fredette received a huge ovation when he entered last year's games at EnergySolutions Arena, and his fans went bonkers whenever he made a shot.
Jazz players were asked about the rock-star reaction that Fredette received while playing on the road in Salt Lake City last season.
"I think it's his diehard fans," Jefferson said. "He did well for — what school did he go to? ... BYU? — he did well for them. It's good they support him throughout his NBA career so I wasn't too surprised about that."
"You've got to respect it, though," said Favors. "He was a big-time college star here, so you've got to respect it."
And Hayward knows what it's like. After all, he received a similar reaction when he returned home to Indiana, where he led Butler University to the championship game of the NCAA Tournament in 2010, to face the Pacers.
"Any time you have someone who's a good player for an instate college like that, I think people are gonna want him to succeed at the next level," Hayward said. "And it's something that I think people were proud that he was playing in the NBA and they wanted to show their support."
EMAIL: rhollis@desnews.com