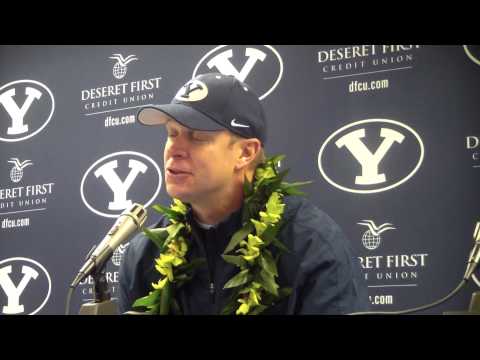 View 44 Items
Brandon Gurney, Deseret News



I'm grateful for their support and to brave the cold.

—BYU QB Riley Nelson
PROVO — By the time the final seconds mercifully slipped off the clock late Saturday night, temperatures were in the 20s, and just a few thousand frostbitten fans remained in the snow-filled stands at LaVell Edwards Stadium.
"I'm grateful for their support and to brave the cold," senior quarterback Riley Nelson said of the crowd.
The scoreboard read: BYU 52, Idaho 13. And it could have, maybe should have, been much worse. Not that it mattered.
With the victory in what amounted to a glorified scrimmage on Senior Night, the Cougars (6-4) became bowl-eligible for the eighth consecutive season. After the game, BYU accepted an invitation to play in the Poinsettia Bowl in San Diego, which sounded downright heavenly on a frigid Provo night.
For beleaguered Idaho (1-9), it was another lopsided loss.
About the only real drama involved starting field corner Jordan Johnson, who did not play Saturday.
"Basically just team discipline," coach Bronco Mendenhall explained afterwards. "He's back in good standing. We look forward to having him back with us on Monday."
As expected, the Cougars, coming off a bye week, dominated the Vandals, jumping off to a 28-7 lead after the first quarter.
"Our team was anxious to play and it showed, especially in the first half," Mendenhall said.
Playing in his final home game, Nelson completed 19-of-31 passes for 236 yards and three touchdowns. All three of those TD passes went to wide receiver Cody Hoffman, who had nine receptions for 108 yards.
Nelson's backup, senior James Lark, entered the game at the 8:22 mark of the third quarter, at about the time fans were building igloos in the stands. Lark completed 6-of-11 passes for 49 yards and one touchdown — to Cody Raymond — which gave BYU a 49-10 lead with 12 minutes remaining.
Freshman running back Jamaal Williams ran 10 times for 104 yards and two touchdowns.
Meanwhile, BYU's defense limited Idaho to 273 yards of total offense and forced five turnovers.
"It was fun to see our defense turn the ball over like they did," Nelson said.
"Overall, we did a really good job and we did our assignments," said senior defensive lineman Russell Tialavea.
On BYU's first series of the game, Williams took a direct snap and ran 49 yards to the Idaho 6-yard line, setting up a six-yard touchdown pass from Nelson to Hoffman.
The Cougars' next possession was highlighted by a 53-yard pass from Nelson to Ross Apo, setting up a nine-yard touchdown run by Williams.
BYU increased its lead to 21-0 after a seven-play 55-yard drive, including a diving, 17-yard catch near the sideline by Skyler Ridley on third-and-14. Two plays later, Williams scored a 10-yard TD.
"We started fast again," said offensive lineman Braden Brown. "I think we left a couple of touchdowns out on the field in the first half. But overall offensively we played really well, we played a lot of guys and it was fun for us."
Idaho got on the scoreboard on a 33-yard touchdown pass by Logan Bushnell to Mike Scott to make it 21-7.
After the Cougars' punted on their next drive, BYU's defense put points on the board when Spencer Hadley recovered a botched snap. The ball bounced into Hadley's hands and he strolled into the end zone from two yards out to lift the Cougars to a 28-7 advantage. It marked their first defensive touchdown of the season.
BYU opened the second quarter with another TD, when Nelson connected with Hoffman for a six-yarder. Nelson found Hoffman again on the Cougars' next possession for a four-yard TD pass. And with 6:49 remaining in the first half, BYU led, 42-7.
The Cougars squandered a couple of more scoring opportunities.
An interception by senior Robbie Buckner, who started in place of Johnson, gave the Cougars the ball with favorable field position. But Justin Sorensen's 28-yard field goal attempt missed badly. BYU got the ball back, with less than one minute remaining, when senior Simote Vea recovered a fumble. Hoffman dropped a pass in the end zone as time expired at the end of the half.
In the second half, the Cougars added 10 more points, including a 21-yard field goal by Sorensen with 1:50 remaining. Idaho's Trey Farquhar drilled a pair of field goals, including a 35-yarder on the final play of the game.
The announced attendance was 61,009.
BYU visits San Jose State next Saturday (8:30 p.m., MT, ESPNU).