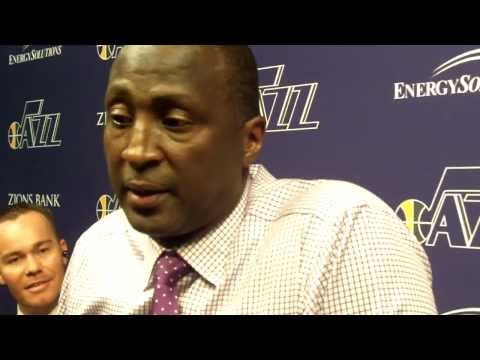 View 29 Items
Blaze Bullock



Paul and Al were great, we needed a big effort for both of those guys.

—Jazz coach Tyrone Corbin
SALT LAKE CITY — For six games this season, Al Jefferson has mostly been missing in action for the Utah Jazz. Big Al hasn't looked himself so far this year, averaging just 11.8 points per game, well under his career average of 16.2 and last year's 19.2 average.
But Jefferson was back to his old self Saturday night in a big way as he scored 27 points and pulled down 14 rebounds to lead the Jazz to a 94-81 victory over the Phoenix Suns as the Jazz improved to 3-4.
Perhaps it could have been the fact that pass-first point guard Jamaal Tinsley started in place of injured Mo Williams and the ball was finding its way inside more than usual. Or perhaps, Jefferson felt a lot better after a bout with the stomach flu earlier in the week. But it looked the old Jefferson Saturday night.
"He looked a lot better,'' said Jazz coach Tyrone Corbin. "We got the ball in his spots, his moves were crisp, and his shots looked good, even the ones he missed. He was patient and made the right moves for us. He made some great passes for us also.''
For his part, Jefferson didn't have a whole lot to say in the locker room.
"I just made shots,'' he said with a shrug of his 12-for-20 shooting. "Most of the games I've missed my shots but tonight they were falling.''
The Jazz were coming off a dreadful loss the night before in Denver when the Nuggets walked all over them by 20 points. But they came ready to play and jumped on the new-look, Steve Nash-less Suns early.
Utah led by as many as 14 in the first quarter when Tinsley was passing out six assists and settled for a 50-43 halftime lead. In the third quarter, the lead got as high as 22, before the Jazz went into one of their last-quarter funks and nearly allowed the Suns to duplicate their win over Cleveland the night before when they overcame a 26-point deficit to win by two.
"It was a must-win, we had to bounce back from last night,'' Jefferson said.
Except for that fourth-quarter snooze when they allowed the Suns to cut a 22-point lead to five, the Jazz played well, getting the ball into Jefferson and Paul Millsap, who complemented Jefferson with 18 points and 13 rebounds.
"Paul and Al were great, we needed a big effort for both of those guys,'' said Corbin. "Jamaal got us in the right spots and looked for the guys that were hot and got the ball to Al a couple of times down the stretch.''
Corbin was unhappy with how the Jazz played at the start of the fourth quarter, when they went scoreless on 13 of their first 14 possessions and scored just two points in nearly eight minutes.
The Suns scored nine quick points to two for the Jazz and Corbin quickly called a timeout. It did little good as the Jazz failed to score on their next eight possessions and the lead was cut to five at 79-74 with 5:24 left on a shot by Michael Beasley. As the Jazz called another timeout, boos filtered through the arena.
Millsap finally stopped the Jazz bleeding with an 18-footer from the right angle with 4:28 left to make it 81-74.
From there, the Jazz couldn't be stopped as Jefferson hit a jump hook from the left block, Marvin Williams sank a 3-pointer from the left angle and Jefferson scored inside off another Tinsley assist. When Phoenix couldn't score after a wild sequence under the Suns' basket, Millsap was left all alone for a gimme layup and it was 90-79.
"We just can't have those kind of meltdowns,'' Corbin said. "Once you get a lead, you get kind of relaxed and we can't afford to do that. Once we get a team down we've got to keep our foot on their neck. We kind of got away from that in the fourth quarter.''
Phoenix was led by Luis Scola with 21 points and 11 rebounds. Jared Dudley added 16 points, including 2 of 3 3-pointers and Goran Dragic had 13.
"It was just another bad start,'' said Phoenix coach Alvin Gentry. "We keep digging ourselves holes and they try to dig our way out and you can't do that, especially on the road.''
The Jazz head out on the road for four games next week, starting with a game Monday night in Toronto.