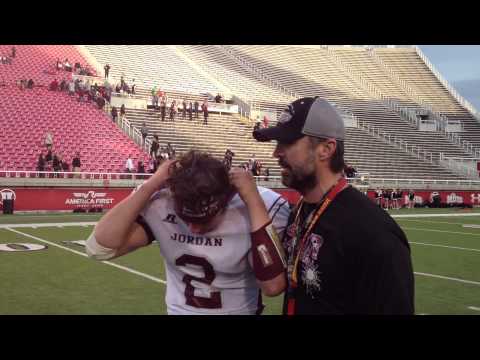 View 11 Items
Amy Donaldson, Deseret News


SALT LAKE CITY — Standing in front of cameras with sweat-drenched hair and dried blood on his face, Austin Kafentzis tried to describe what it means to him and his teammates to earn a spot in next Friday's 5A football state championship.
"I'm way happy," said the 16-year-old quarterback after top-ranked Jordan avenged last year's semifinal loss with a 35-14 win over defending champion Lone Peak Thursday at Rice-Eccles Stadium. "I couldn't have done it by myself. All these guys are the ones who should get all the credit."
And then he waves his hand in the direction of his teammates — some of whom are celebrating and some of whom are crying.
"It's just incredible," said Kafentzis, who threw for 206 yards and rushed for another 127 yards in the Beetdiggers' win. "I've never been to the state championship game in high school. After last year (when he left the semifinal game with a broken collarbone), playing a full game, it just feels nice that my team is behind me 100 percent. They all fought injuries too. We had some guys on the ground, and they got up and they kept playing, and that really means a lot. That's coming from the heart."
Kafentzis completed 13-of-17 passes, averaged 7.1 yards per carry and played free safety for the team. He received a bloody nose on a play near the end of the game, and admitted that it was "a little bit" difficult playing both ways. The sophomore had to fill in on defense when the team's safety was injured in the first playoff game.
"I do whatever the team needs," he said smiling. "So if the team needs it, I'll go out there and get a bloody nose. … I'll do it for the team. I love these guys."
He said the breaks he gets allow him to recover.
"I get the special team breaks," he said, "and that's enough. I started cramping a little, but that just means I didn't drink enough water. I'll be better prepared next week."
While Jordan showed its offensive firepower and versatility, the Beetdiggers got their first chance at scoring when Taylor Johnson intercepted Lone Peak's Baron Gajkowski on the Knights' first drive.
The result of that drive was Jordan's first touchdown when Kafentzis connected with Nick West on a 32-yard pass play. The Beetdiggers scored again at 4:55 in the first quarter when Clay Moss blasted through the Lone Peak line for a 5-yard run.
The Beetdiggers made the best of a broken play when the snap flew over holder Tyler Swan's head. Swan chased the ball down and threw a beautiful pass to Andrew Wilcox for a two-point conversion.
Lone Peak then answered with 1:07 left in the first quarter when Talon Shumway caught a 9-yard pass from quarterback Gajkowski.
Jordan scored twice and Lone Peak scored once more when Gajkowski connected with Shumway again just 15 seconds before halftime.
With a 28-14 lead, the game still seemed to be up for grabs. That's when Jordan coach Eric Kjar reminded his team of why they spend so much time lifting weights, watching film and preparing for whatever the state's best teams might throw at them.
"I just challenged them to finish the game the right way," said Kjar, who's been at the helm of the program for four years. "I said, 'If you want to play for a state title, you've got to finish the second half.' They did. I was really happy with the way they responded." The defense found a way to slow what has been a very efficient Lone Peak offense.
"I thought our defense played really well, especially in the second half," said Kjar. "I'm excited for our kids. It's fun to see because they put so much work in, and to see them be able to reap the rewards is nice. … It's fun to see a group that's worked this hard make it this far."
Moss said the players put in so much time it "feels like a full-time job" because of the emotional investment.
"Just representing Jordan and finally getting this opportunity is special," said Moss, who earned 115 yards and scored three touchdowns in the win. "We're going to do the best we can and hopefully come out with a W (next week)."
Moss said beating the team that broke their hearts last year was satisfying.
"We prepared one game at a time," said Moss. "After losing to them last year, we wanted to take it to them, and that's what we did today."
Kafentzis said they weren't worried about who they played in Thursday's game, only that they earned a win. He said the game might be the best overall game the Beetdiggers have played this season.
"I think we played amazing tonight," said Kafentzis. "Last year, coming off of that loss, I think we all came together this game and we worked on the things we didn't do last year."
Gajkowski finished with 69 yards rushing, 263 yards passing and two touchdowns. He was sacked four times, while Kafentzis wasn't sacked at all.
Comment on this story
Kjar said earning the school's first state title since 1994 would be important for the players and the community that supports them.
"It would be pretty special for them, I know it would be," said Kjar, "for how hard they worked, the amount of time they've poured into getting good at their positions, playing the game, and all the effort that's been put forth by them, it's going to mean a ton to them. It's something they're hungry for, and obviously we're hungry for it as coaches. It kind of makes everything worth it if we win it."
Twitter: adonsports
Email: adonaldson@desnews.com