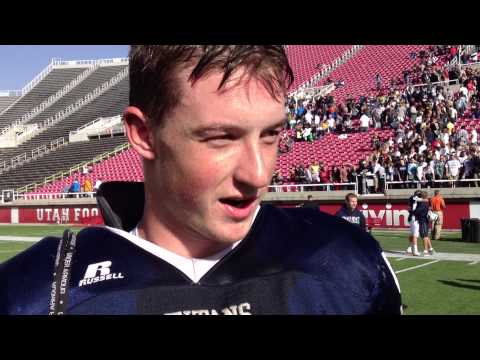 View 48 Items
Amy Donaldson, Deseret News


SALT LAKE CITY — Syracuse came within inches of reaching the 5A state finals last year, but turned the tables on being inches short this year. With Bingham threatening to score and take the lead late, the Titan defense held on third-and-1 and then fourth-and-2 to preserve a 21-16 win and advance to the state finals.
A year ago, Syracuse receiver Diante Mitchell came within inches of keeping his team alive in the state semifinals against Fremont. On a last-second fourth-and-goal play he stretched the ball toward the goal line to come up just short.
This time it was Bingham that was held just short as Syracuse stuffed two rushing attempts up the middle with just under a minute to play. The Titans took over on downs, ran the clock out, and the celebration began.
"This is the best feeling in the world. They always say to take advantage of your second chances, and we took advantage of them today," said Mitchell. "We believed that we could win even when the whole state doubted us. … the state didn't believe that we could do it, but the kids and the Syracuse community did."
Indeed, not many believed Syracuse stood a chance without its starting quarterback and two other starters entering Thursday's game. The backups stepped up big — most notably sophomore quarterback Kole Tracy.
Syracuse rotated two quarterbacks to start the game, but it was Tracy who emerged at the position shortly after the first quarter. Down a touchdown, Tracy connected on a three-yard touchdown to Kiwa Mo'o with 4:05 left in the first half to tie it at 7-7.
Shortly after halftime, Tracy threw his second pass of the afternoon — lofting a long 57-yard bomb to Mitchell for the score. Tracy then capped off his team's next possession with a 2-yard touchdown run to give the Titans a commanding 21-7 lead as the third quarter came to a close.
Tracy finished the game with 10-19 passing for 129 yards and two touchdowns. He also ran the ball 15 times for 33 yards.
"I don't know how you do it being that young and inexperienced," said Syracuse coach Russ Jones about his sophomore quarterback. "He didn't take any snaps until this week, and he was outstanding today."
Bingham came roaring back following Tracy's touchdown run, with Hayden Weichers receiving a 63-yard touchdown pass from Jantzen Bowles to cut the lead to 21-14 with 11:51 remaining.
The Miners looked to snatch all the momentum away following a safety at the 6:51 mark, which cut the lead to 21-16. Joe Kaufusi and Lowell Lotulelei combined to force a Tracy fumble in his own end zone that was recovered by Syracuse.
Despite the consecutive scores, Syracuse players kept their heads up and remained focused.
"When our kids come off they're very collected and they keep their poise," said Jones. "We tell them what we need to do in situations like that, but they always have the right mentality and know what needs to get done."
The Titan defense responded in a big way following Bingham's two second-half scores — much like it did all game long. After the teams traded three-and-out possessions, the Miners found themselves with good field position on their 39-yard line with 3:20 left to play. Six plays later found Bingham at the Syracuse 14-yard line in a third-and-one situation with just over a minute remaining.
It was then that the Titan defensive line stuffed two straight rush attempts up the middle to all but end the game.
"It came down to inches again, but this time it was in our advantage," said Mitchell. "We're happy to be in the state championship right now — not too many people have the opportunity to do that."
The relatively undersized Titan defense played big all game long — forcing Bingham into five turnovers and holding it to just 115 yards rushing.
"These kids just stay in their lanes — it's nothing fancy, they know where they're going, they know their gaps and they know their assignments inside and out," said Jones about his defensive front. "Dayne Faerber does an awesome job with that defense — he gets them cranked up and gets them going."
3
comments on this story
With the victory, Syracuse advances to the state finals where it will likely be considered the underdog yet again. It's a role the players are used to and something they know they can overcome.
"I've never seen such a group of kids be as resilient as these kids are," said Jones. "We got some good breaks, but our kids don't know how to quit. They've bought into everything we've said and just stepped up to make plays, didn't keep their heads down and got it done. They simply know how to get it done."
Email: bgurney@desnews.com
Twitter: @BrandonCGurney