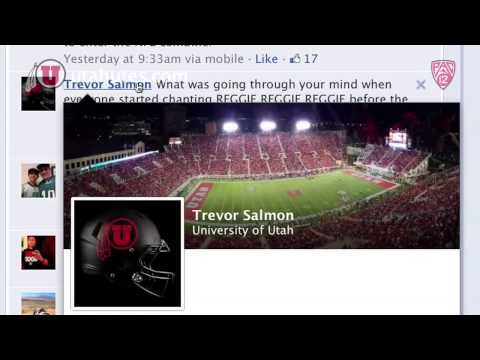 View 2 Items
Utah Athletics

Reggie Dunn had made his third kickoff return for a touchdown in a two game stretch for the Utes. "Reg-gie, Reg-gie" echoed through Rice-Eccles Stadium.
Because of Dunn's returns against California and Washington State, the Utes have jumped to the NCAA number one ranking in kick returns. They now average 35.33 yards per return and have recorded a total of 530 yards on returns throughout the season.
The number two slot is occupied by Rutgers, which averages five yards less per return.
Earlier in the season, the Utes were contributing under 20 yards per return. Dunn, with his speed, agility and newly rediscovered mental focus, has completely altered this statistical category for Utah.
"Dunn it again" resonated through various news and social media sites Saturday afternoon.
Erin Maddux responded to the feat by tweeting, "Reggie Dunn it again. Classic."
Then Brian Swinney from Inside the Utes tweeted, "That's a joke right? Dunn does it again. Reggie Dunn is going to end up being an All American."
Nearly every news site along the Wasatch range came up with its own derivative of the phrase.
"I knew it was going to happen because before we went out there, I saw it in the kickoff return team's eyes," Dunn said after the game. "They was like let's just make it happen again. We were confident we probably wouldn't get that many opportunities at it, but we made our one opportunity count."
It definitely counted.
One question remains, though, for the best return team in college football. Will the Washington Huskies kick to Dunn?
Utah coach Kyle Whittingham noted his team's next opponent might want to be very careful if Dunn is on the receiving end of a kickoff.
"I didn't think (the Cougars) would kick to him last week, and they did," Whittingham said. "I can't say for sure whether (the Huskies) will kick to him, but they certainly have to think twice about it."
The Seattle Times reported Huskies coach Steve Sarkisian knows Dunn well from his high school years and firsthand has seen the talents he possesses.
"Reggie has always been explosive," Sarkisian said. "He's always been fast. He's always had big-play capabilities, so we're very aware of it. Obviously he's been on a little bit of a roll these last couple of weeks."
Whether or not Dunn gets another opportunity to return a kick for the rest of the season, he has made his difference on the Utah squad by giving the Utes a threat that no one else boasts in the Pac-12, and possibly no one else in the nation.
Whitney O'Bannon is currently a new media sports intern for the Deseret News.