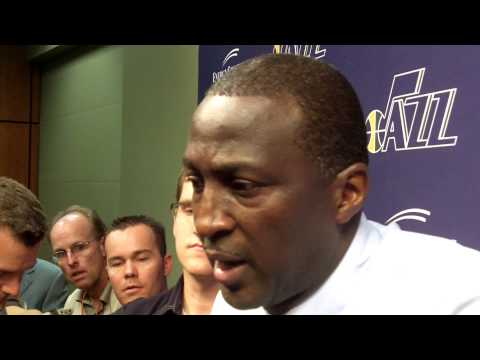 View 4 Items
Blaze Bullock



SALT LAKE CITY — Before Kobe Bryant really showed up, he got shown up.
The large contingent of bandwagon purple-and-gold sporting Laker fans at EnergySolutions Arena certainly enjoyed the former. The Jazz and their fans will happily take the latter.
Bryant scored the final 16 Laker points Wednesday night, but that wasn't nearly enough to undo the damage done by a guy who used to call Staples Center home.
Foye, oh Randy Foye, the Jazz's backup guard, overshadowed Bryant's late-game surge by hitting four of his five 3-pointers in the final period while leading the Utah Jazz to a 95-86 victory at rocking EnergySolutions Arena.
The win in this duel between surprising 1-3 squads was much-needed for the Jazz after their recent road woes, which included losses in New Orleans, San Antonio and Memphis.
That rough stretch weighed heavily on Utah (2-3) since returning after Monday's setback to the Grizzlies.
"This was extremely important. That's all we talked about ever since we had our last road game. Every one was so upset," Foye said. "We just came in. We had a great practice (Tuesday). We worked really hard. And we turned it on today."
They turned it on when they needed to as well — both offensively and defensively.
Utah held the Lakers to 17 points in the first quarter and aggressively established themselves while building an early double-digit lead. The Jazz also hassled the Lakers into shooting 33.8 percent.
The Lakers played without Steve Nash (leg injury), but they never took a lead despite having a star-studded cast that include Bryant, Dwight Howard, Pau Gasol and the former Ron Artest.
Wednesday, L.A. looked more like the 1-4 team it is rather than the NBA title contender it was considered to be after picking up Howard and Nash this offseason.
"Hard-fought ballgame. The guys really grinded it out," Jazz coach Tyrone Corbin said. "We needed a win bad on our home floor. Our fans were super at helping us stay in there and just plugging at it and plugging at it."
Shooting and hitting 3-pointer after 3-pointer certainly helped.
Foye's offensive explosion included three 3-pointers in a row at one point and 12 of his bench-best 17 points in the entertaining fourth quarter.
"That's what Randy do. That's what he do," Jazz center Al Jefferson said. "That's why he (is) perfect coming of the bench. He's the type of guy once he get going, sometimes he's unstoppable."
Bryant finished with a game-high 29 points, and he was also unstoppable. But his burst didn't happen until after Foye, one of Utah's bright spots this season, helped the Jazz turn a tenuous five-point advantage into a double-digit lead — 79-68 with 6:40 to go.
In other words, Bryant's streak was fun to watch and upped his stats. But Foye's helped the Jazz snap their losing streak.
"Oh man, I was feeling it. I want to give credit to my teammates. My teammates found me in the right spots and they got me going," Foye said. "I just tried to be aggressive, just play within the team offense."
Foye's big night from outside helped the Jazz overcome a few offensive inefficiencies. While he hit 5-of-9 bombs, Utah players not named Foye were 0 for 8 from deep. The Lakers also got to the free-throw line 46 times compared to Utah's 18 trips, a discrepancy Corbin admitted was "tough" because he thought both teams played aggressively.
"It is what it is. We came out with a good win," Corbin said, avoiding making complaints about refereeing. "They shot more free throws than we did, but I'm just proud of the way our guys fought and hung together."
Jefferson got off to a good start with eight first-quarter points and had an even stronger finish with 10 in the fourth. The Jazz center, who had to deal with 6-11 Howard, had 18 points, 10 rebounds, four steals and two assists.
By the time he got to the locker room, though, Big Al was already trying to look ahead to Utah's upcoming schedule. The Jazz have five of their next six on the road, beginning with Friday's trip to Denver.
"This is only the beginning," Jefferson said. "We happy with it, but we can't celebrate too long. We got to continue to work hard."
The Jazz are hoping their Clipper connection continues to come through as it has. Two of Mo Williams' seven assists were on Foye's 3-pointers.
"We've played a lot of minutes together, especially last year," said Williams, who had 16 points. "We were both on the floor a lot together. It helped."
Williams admitted the win helped boost team morale, too. That's especially the case because so many guys contributed — from Marvin Williams' 11 points, to Gordon Hayward's defense on Bryant and three blocked shots, to young bigs Derrick Favors and Enes Kanter giving big boosts off the bench.
"It's definitely sweet," Mo Williams added. "It was all about us tonight. We needed to get this win and get back on the road."
NOTES: Point guard Earl Watson continues to rehab from knee surgery and has begun playing one-on-one before games. He still hasn't announced a return date. … The Lakers' 1-4 record is the worst in the Western Conference. … The Lakers went 32 for 46 from the charity stripe, marking the most freebies they've ever attempted in a game against the Jazz.
EMAIL: [email protected]
TWITTER: DJJazzyJody