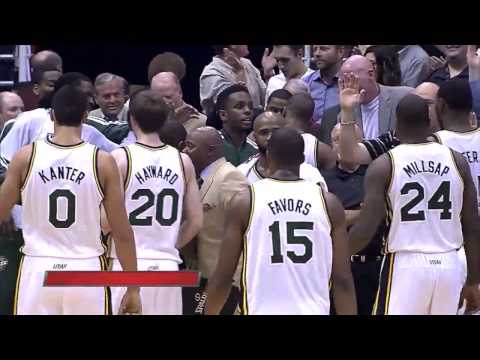 View 2 Items

SALT LAKE CITY — Every time the Los Angeles Lakers started knocking on the door in the fourth quarter of Wednesday night's game, the Utah Jazz had an answer ...
Foye for 3!
Indeed, the Jazz had squandered most of their double-digit lead, and Kobe Bryant and the boys from La-la Land were threatening to overtake them down the stretch. But Utah had ...
Foye for 3!
Three times in the final period, the Lakers crept within five points, and the EnergySolutions Arena crowd couldn't help but get more than a little anxious. No worries, though, because there was ...
Foye for 3!
Randy Foye, a veteran 6-foot-4 guard who's in his seventh NBA season but his first one in Utah, splashed in four 3-pointers in the final period to help the Jazz turn back the Lakers' repeated rallies and come away with a 95-86 victory that snapped Utah's three-game losing streak and dropped L.A. to a surprising 1-4 start this season.
Foye, who signed with Utah as a free agent last summer after spending his previous two seasons with that "other" L.A. team, the Clippers, wound up with 17 points — fueled largely by those four 3-point bombs in the fourth quarter.
And the Jazz needed every one of them to stay in front before big Al Jefferson took over, scoring 10 of his team-leading 18 points in the final 5:11 to help the Jazz improve to 2-3.
"I tell you what, for a while there, we couldn't throw it in the ocean, but the 3-pointers he made there in a row were huge for us," said Utah coach Ty Corbin.
"And that's who he is, a tough veteran guy, and he understands the time and point of the game. They were really, really timely 3-point shots for us, and we really needed them. I was glad to see him come through for us."
Utah led by as many as 14 points in the third quarter and was clinging to an eight-point advantage to start the fourth when Los Angeles started chip-chip-chipping away.
Three times — at 65-60, 70-65 and again at 73-68 — the Lakers got within five, only to have Foye bury 3-point bombs from long distance each time to restore Utah's much-more-comfortable eight-point spread.
Just for good measure, he hit another one that made it 79-68 with 6:40 to go, and the Lakers didn't get closer than nine points again until the final 48 seconds.
"You have to tip your hat to Foye for making those shots," L.A. coach Mike Brown said. "He stepped up and hit some big shots down the stretch."
Of course, for Foye, it was just another fun day at the office as the veteran combo guard finished 5 of 9 from beyond the arc and also had a blocked shot, a rebound and a couple of free throws to his credit.
"Oh, man, I was feeling it," he said. "I've got to give a lot of credit to my teammates. My teammates found me at the right spots and they just got me off; they just helped me get going. I just knocked down the shots.
"My whole thing is to just try to be aggressive, just try to keep coming at them — just coming at them like they do us. When I make one, I feel as if I can make five in a row."
He said the Lakers' Metta World Peace looked at him at one point after raining all those 3s and shuddered, "Whoooo!"
And Foye told him, "I know, you better stop leaving me alone."
1
comment on this story
Coach Corbin gave credit to the Jazz front office for bringing Foye to the ballclub during the offseason. And, after Wednesday's winning performance, he was mighty glad they did.
"I'm glad they brought him in here," he said. "He's a true veteran. He understands how to play in big moments and he understands how to play the game, and defensively he did a great job staying up physical and then making offensive shots for us when we were struggling on the offensive end. They were huge — he made 'em at a big time."
Foye for 3 indeed.
EMAIL: rhollis@desnews.com