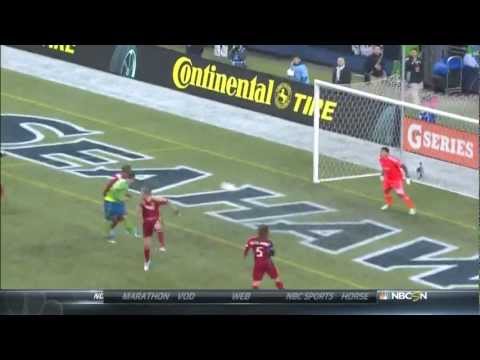 Nick Rimando made spectacular save after spectacular save and even took an elbow to the face to preserve a 0-0 shut out on the road for Real Salt Lake in the first leg of the Western Conference Semifinals against the Seattle Sounders FC.
RSL Midfielder Ned Grabavoy and defender Nat Borches both played the full 90 minutes despite both players recently coming off of injuries. Defender Kwame Watson-Siriboe started in place of Jamison Olave who is also still recovering from injury. Olave was subbed in for the final 15 minutes of the game. Rimando now has to deal with injury concerns of his own after a collision in the 66th minute left him with a swollen eye, a broken nose and bloodied gloves.
"The ball came in, I committed for the ball, and the next thing I know, I'm on the ground," Rimando said. "I heard it was Tiffert, and it wasn't intentional — he just followed through with the forearm and got me."
RSL struggled on set pieces against the Sounders forcing Rimando to make back to back saves off of two corner kicks in the 33rd minute. RSL gave up 8 corners to Seattle's 3.
RSL may not be so lucky in the decisive second leg at Rio Tinto. The Sounders, who have also had to deal with injuries, expect to start striker Eddie Johnson, who sat out the first match with an adductor strain. Johnson scored 14 goals for Seattle during the regular season.
Despite potent offensive play, the Sounders were not without defensive concerns of their own. Keeper Michael Gspurning kept pace with Rimando making key saves of his own, however Gspurning also had help with a few shots being completely blocked or cleared by defenders.
"We left everything out on the pitch today," Gspurning said. "We fought, we played good, we created chances. The only thing we didn't do was score a goal. (Rimando) played a great game — awesome saves. He was one reason we didn't score."
Seattle has been shut out in three of its four home playoff games since joining MLS.
The draw also saw RSL's scoreless streak extended to 332 minutes in MLS competition, and no goals have been scored by either team in the last 299 minutes of play against each other.
Ryan Carreon is a web editor for the Deseret News. E-mail him at rcarreon@desnews.com.