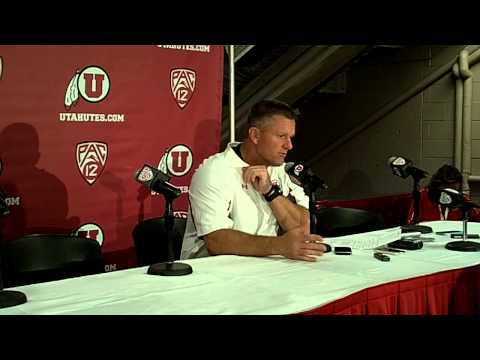 View 105 Items
Whitney O'Bannon



SALT LAKE CITY — Utah's upward climb continued Saturday afternoon at Rice-Eccles Stadium. The Utes won a second straight game for the first time this season with a 49-6 victory over Washington State.
The modest streak moves Utah (4-5, 2-4) to within two games of bowl eligibility and within three of a 10th consecutive winning season. The Utes visit Washington next week and then close out the campaign with a home game against Arizona and a road trip to Colorado.
As was the case a week earlier when they snapped a four-game skid with a 49-27 win over California, the Utes got off to a strong start with the offense, defense and special teams making contributions. Reggie Dunn highlighted the latter with his fourth career 100-yard kickoff return (the most in NCAA history) to open the second half.
"We're starting to play better as a football team," said Utah coach Kyle Whittingham. "We played another complete game this week, very much like last week. All three phases were functioning well."
Utah scored on five of its final six possessions over the first two quarters to build a 31-0 lead. John White headlined the effort with two rushing touchdowns and a reception for a score. The Utes racked up 285 yards of total offense and 17 first downs in the decisive half.
"The message this week was to just play with passion and energy. That's what it took today," said White, who finished with 101 yards rushing. "We just went out there and pounded them."
The defense, meanwhile, made five sacks while holding Washington State to just five first downs and 0-for-7 success on third downs. Cornerback Reggie Topps had a 21-yard interception return to set up Utah's first field goal since the BYU game on Sept. 15. Coleman Petersen made a 20-yarder as the Utes extended their lead to 24-0 with 8:03 to go in the second quarter.
Utah's point production began with a 47-yard touchdown run by White and a 5-yard scoring strike from Travis Wilson to Max Moala in the first quarter. White added a 2-yard TD run early in the second.
Following Petersen's kick, the Utes once again turned to White. The senior caught an 18-yard touchdown pass from Wilson with 21 seconds to remaining in the half.
Utah fans had more cheer about after the break — and it didn't take long. Dunn's third 100-yard kickoff return in seven days gave the crowd of 45,069 more reason to rise and shout.
"I knew it was going to happen because before I went out I saw it in the kickoff return team's eyes," Dunn said. "They were ready to make it happen again."
The Utes' lead swelled to 39-0 when Jake Murphy took a direct snap into the end zone for a two-point conversion. On the ensuing drive, Trevor Reilly sacked Washington State quarterback Jeff Tuel and jarred the ball loose. Star Lotulelei recovered the fumble on the Utah 28 as the defense continued to shine.
"We brought a lot of pressure with the stars we have up front," Topps said. "We were only rushing three or four and we were still able to get pressure."
The Utes had a shutout going until Tuel connected with Kristoff Williams on a 5-yard touchdown throw on the final play of the game.
Earlier in the fourth quarter, Utah extended its lead to 49-0 on a 22-yard field goal by Petersen and a 9-yard touchdown run by Lucky Radley — capping a 453-yard performance by the offense.
"It was a good effort all-around and we needed it, obviously. Our backs are to the wall and they'll still be to the wall the rest of the way," Whittingham said. "That's the approach we've got to take — keep fighting our way out of the corner. That's our mentality."
Speaking of fight, Washington State coach Mike Leach didn't like what he saw out of his team.
"If five of our guys went in an alley and got in a fight with two of theirs, we would have gotten massacred," Leach said. "That's just ridiculously inexcusable. It was one of the most heartless efforts up front I've seen and our defensive line wasn't any better."
The Cougars fell to 2-7 overall and 0-6 in Pac-12 play with the loss.
Email: dirk@desnews.com
Twitter: @DirkFacer