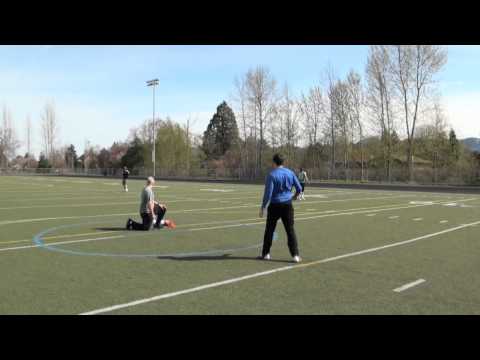 View 4 Items
YouTube

SHORELINE, Wash. — BYU football commit Billy Green has suffered through his future team's season much like most BYU fans. He even refers to his future team as "we" when talking about how the Cougars came up just short against Notre Dame, blew out Georgia Tech and all other things involved with BYU football.
Green is a 6-foot-2 quarterback prospect who committed to sign with BYU this past summer and has since set the field on fire. He's thrown for 2,441 yards, 42 touchdowns and just two interceptions this season while leading his King's High team to a 9-0 record and a region championship.
In between games and practices he's been following his future team closely while talking to coaches and communicating with fellow commits for 2013. While this BYU football season has been frustrating, Green believes the program is headed in the right direction.
"I call Coach (Brandon) Doman every week and talk and he gets me so excited about the program," said Green. "I was strongly committed to BYU when I first decided to sign with them, but I'm even more committed now after seeing how we've (BYU) competed against teams like Notre Dame and I know the best days are ahead of us."
As for his own successes this season, Green is quick to credit his teammates.
"Everyone on our team has really improved and they're making it easy for me — the credit goes to them," he said. "I've improved as well — I'm making my reads better and I'm a lot more confident and that all started when I first got my offer from such a big Division I program like BYU."
Green attended BYU's junior day last June with a lot of question marks. After being recommended to BYU coaches by the Barton passing camp in Washington, Green had doubts if he was even good enough to play at the D-I level along with big concerns about BYU being an LDS institution.
Both questions were answered clearly after his first visit. Green, who holds strong Christian beliefs, found BYU to be right in line with the atmosphere he's seeking and the ideals he chooses to live by along with simply receiving an offer.
For most recruits, a lot of doubts remain until that first offer is received as a means to validate their abilities.
"I can't tell you how much that offer meant to me," said Green. "The thought that a big school like BYU wanted me to play quarterback for them — it just gave me so much confidence and I think that's really helped me this season and will continue to help me."
Green has received interest from other programs since he committed, but is holding true to his commit and hopes to enroll at BYU in January. He's on track for early graduation and will benefit greatly with a spring practice session and offseason workouts before competing for a spot in August.
Green has been impressed with the success of first-year players at BYU — most notably the success of Jamaal Williams, with whom he holds something in common.
"I was actually born in the same month and year as Jamaal which is incredible considering what he's already doing at BYU," he said. "Seeing how good he's done for us his first year and knowing that I'll be able to play with him is just a great thing and just another thing to get excited about."
Green is also excited about those players he'll sign with as part of the 2013 class. He's forged strong relationships with fellow northwest commits Brayden Kearsley and Dallin Leavitt. All three were able to attend the Oregon State game together along with many other commits.
"Even though we lost it was a great experience being with other commits, getting to know them better and just being at BYU," said Green. "I've become good friends with Brayden and Dallin and I want to get to know even more of the commits — especially all the commits they have from players in Utah. I think coaches have recruited a great class and I'm excited to play with all of the other players we've committed along with the great players that are already there."
One player he's particularly excited to play with at BYU is speedy wide receiver Michael Davis from Glendale, Calif. The 6-foot-2 Davis was the talk of BYU's camps with his speed and explosiveness and Green was intent on helping get him to BYU.
"You always want great receivers to throw to, so I was very excited when Michael (Davis) committed to BYU after I did," said Green. "I've talked to him a few times this season and he's doing great and he's excited to get to BYU as well. I really think that we're going to have some good success at BYU and it's the perfect school for me and the goals I have as a player and as a person."
Email: [email protected]
Twitter: @BrandonCGurney