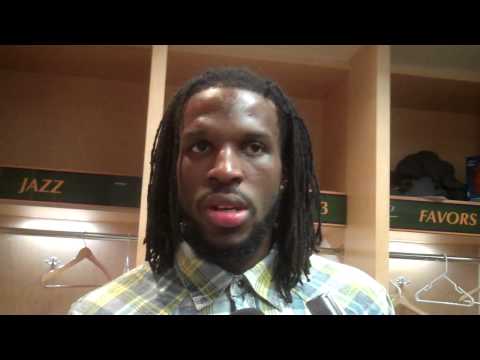 View 3 Items
Amy Donaldson, Deseret News



SALT LAKE CITY — On Halloween Night, the Utah Jazz came up with a delightful treat for their most faithful fans — a rousing season-opening victory over the Dallas Mavericks — and it was no trick.
No trick at all.
With six players scoring in double figures, three double-digit rebounders paving the way for a lopsided 61-40 advantage on the backboards, and a second-half defensive effort that any team would envy, the Jazz performed their version of the "Monster Mash" on the Mavs, 113-94, in front of a far-less-than-sellout crowd of 17,634.
Heck, maybe a couple thousand Jazz fans were dressed up like empty seats at EnergySolutions Arena. But the ones who came out Wednesday night were certainly treated to an impressive second-half performance in which Utah was "Runnin' With the Devil" and outscored Dallas 58-31 to erase an eight-point halftime deficit.
"Well, we played better certainly than we did in the first half, especially to finish up the half," Jazz coach Tyrone Corbin said. "We really were disappointed in the way we finished (the first half). They got a run and made shots on us.
"I thought in the third quarter, our defense picked up and one through five and everybody out on the floor understood at halftime we were better than what we demonstrated in that second quarter (when Utah was outscored 37-30) and took it upon themselves to play better that second half."
Indeed, after allowing Dallas to pile up those 37 points in the second period, Utah turned the tables by outscoring the Mavs by a whopping 37-13 margin in the third quarter.
"When you get beat by 24 in a quarter, that is a convincing beating," lamented Dallas coach Rick Carlisle, who looks remarkably like comedic actor Jim Carrey — with a shaved head. "We just didn't match their aggression in the third (quarter) and that was the difference in the game.
"This is probably the toughest team to deal with on the boards because they come with waves of energy out of their big men. ... I mean (Paul) Millsap had six offensive rebounds in the first five minutes, and it didn't get a lot better from there."
Utah's Williams duo, Mo and Marvin, scored 21 points apiece; Millsap and Randy Foye chipped in with 13 each; Al Jefferson added a dozen; and Gordon Hayward had 11 more.
But it was defense and rebounding that paved the way for the Jazz victory. The Mavs shot a miserable 20.9 percent (9-of-43) from the field after intermission and were 1-of-6 from 3-point range.
Meanwhile, Millsap (15), Jefferson (14) and Derrick Favors (10) combined for 39 rebounds between them — almost as many as the entire Mavs' lineup (40).
"Oh, yeah, that's the good thing about this team," Jefferson said. "We got a great rebounding team and we picked our defense up in the third quarter, and we proved that when we play defense, it opens up our offense."
And in the end, sticking with that Halloween Night theme, this was certainly no "Thriller" — though it was chock-full of highlight-reel plays by the Jazz.
And although backup big man Enes Kanter got a gash on his chin that only Freddy Krueger could appreciate, Utah's season-opening win was exactly what the Mad Doctor, sitting courtside dressed like a shimmering Disco Daddy, ordered.
EMAIL: rhollis@desnews.com