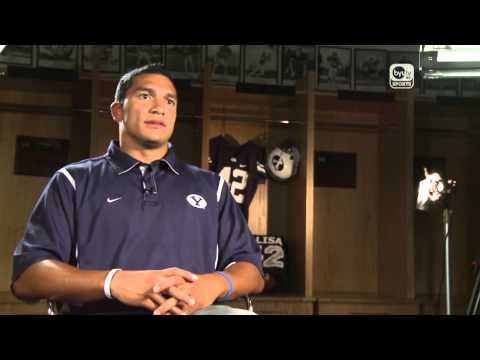 View 2 Items

Michael Alisa came into the 2012 football season as BYU's primary ball carrier. There was high hope for Alisa, as he showed flashes of a former BYU running back Harvey Unga last season.
Alisa played football at Timpview High School in Provo, where he earned second-team All-State honors and helped the Thunderbirds to an undefeated season and the 4A state championship in 2006.
Alisa also played linebacker for the T-birds, and early in his Cougar career, it looked like that would be his college position. As a freshman he played mostly on specal teams, recording 11 tackles.
3
comments on this story
But he moved to the Cougar offense as a sophomore, and by the end of the season Alisa was the starting running back. He tallied 455 rushing yards and 3 touchdowns in 2011 and entered 2012 as the top back on the BYU depth chart.
Unfortunately, Alisa suffered a season-ending arm injury in BYU's victory over Hawaii earlier this season.
Alisa's injury is a setback in his young career. However, Alisa is accustomed to adversity. Check out this BYUtv Sports video and learn about Alisa's journey from a clumsy youth athlete to the gridiron at LaVell Edwards Stadium.
Video: The story of BYU running back Michael Alisa
The journey of BYU running back Michael Alisa to the college gridiron.
Contact Gregory Rose at grose@deseretdigital.com or follow him on Twitter at @GRoseDDM.