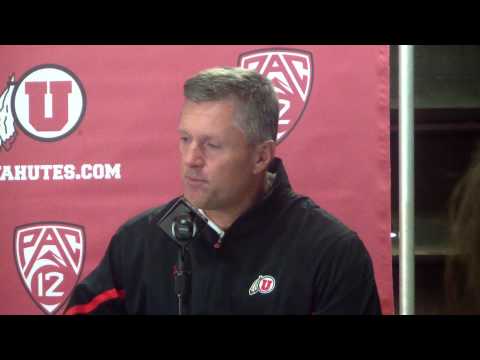 View 44 Items
Brandon Gurney, Deseret News


It was good to get a win without a doubt, it's been awhile.

—Utah coach Kyle Whittingham
SALT LAKE CITY — It didn't take long for Utah's "Blackout Game" to brighten a gloomy situation up on the hill. A pair of unconventional first-quarter scores lifted the Utes to a 49-27 victory over California and snapped a four-game losing skid.
The momentum-shifting outburst, which featured the first of two 100-yard kickoff returns by Reggie Dunn and a 17-yard fumble recovery for a touchdown by Reggie Topps, erased a 3-0 deficit and propelled Utah to its first victory since defeating BYU on Sept. 15.
"It was good to get a win without a doubt," said Utah coach Kyle Whittingham. "It's been awhile."
The decisive scores came just over 10 minutes apart. Dunn's followed a 49-yard field goal by Cal's Vincent D'Amato, while Topps' came on a forced fumble by teammate Jason Whittingham. The redshirt freshman caused the turnover when he hit Bears receiver Chris Harper on a 2-yard reception.
Leading 14-3, Utah weathered a 38-yard field goal by D'Amato early in the second quarter. An exchange of punts followed before the Utes responded with two more touchdowns before the half was complete. Kelvin York capped the first drive with a 1-yard run and Travis Wilson concluded the second on a 5-yard keeper.
The latter came just 22 seconds before the break and at the end of a 13-play, 54-yard drive that took 6:11 off the clock. Ryan Lacy set things up with his second interception of the season.
Utah led 28-6 at halftime, its biggest advantage after two quarters since a 24-0 margin over Oregon State on Oct. 29, 2011.
The Utes added to their lead early in the second half. Running back John White scored touchdowns from 10 and 7 yards out to make it 42-6 with 29 seconds to go in the quarter.
Shortly thereafter, things got real wild. Cal scored on the final play of the third quarter (on a 57-yard run by Brendan Bigelow) and Utah on the ensuing kickoff to open the fourth. Dunn's second 100-yard return of the game was the third of his career — both school records. So, too, was the 222 yards he netted in kickoff returns.
Trailing 49-13, Cal cut into Utah's lead with two touchdowns passes by Zach Maynard down the stretch — a 23-yard strike to Keenan Allen and a 7-yard throw to Richard Rodgers.
The Bears drew no closer as the Utes upped their record to 3-5 overall and 1-4 in Pac-12 play. Saturday's win at Rice-Eccles Stadium gives them much-needed momentum entering the final month of the campaign.
"Overall, it was very positive. It was good to get back on track and get a win," Whittingham said. "It's been a little bit frustrating the last three or four weeks, but we got a nice win tonight."
Utah's bid for a 10th consecutive winning regular season and bowl appearance concludes with home games against Washington State (Nov. 3) and Arizona (Nov. 17), as well as road trips to Washington (Nov. 10) and Colorado (Nov. 23).
In ending their longest losing streak since dropping six straight in 2002, the Utes improved to 10-0 over the past two seasons when White rushes for at least 100 yards. The senior finished with 105 on 22 carries — his highest output since running for 119 against Northern Colorado on Aug. 30.
Utah's offense racked up 22 first downs and converted on 8-of-13 third downs. Wilson completed 16-of-24 passes for 156 yards in his first career start at home. Kenneth Scott topped the receiving corps with five catches.
Defensively, safety Brian Blechen made a team-high seven tackles for the Utes. The Kruger bothers (Joe and Dave) each had a sack, as did Tenny Palepoi and Topps. Defensive tackle Star Lotulelei recovered a fumble.
"It was good to see our offense come out and be productive. The defense played well for 31/2 quarters. We got soft there at the end, but I'm very proud of the players and coaches," Whittingham said. "We worked and put a great plan together. Reggie Dunn had a huge impact on the game with his two kickoff returns for touchdowns."
Email: dirk@desnews.com
Twitter: @DirkFacer