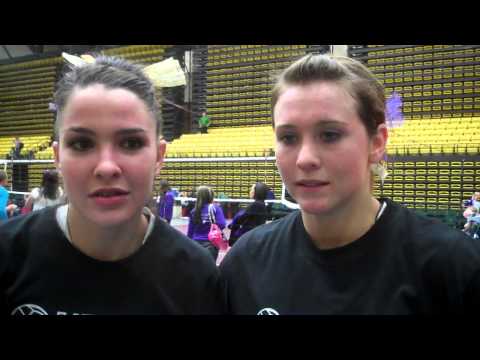 Amy Donaldson, Deseret News
OREM — Sometimes rearranging chairs on a sinking ship actually helps.
Just as it looked like unranked San Juan would upset fourth-ranked North Summit in the quarterfinals of the 2A state volleyball tournament, Sam Stephens decided to try rearranging her players in an attempt to sieze the momentum from the hard-hitting Broncos.
"I just switched our outside hitters," said the North Summit head volleyball coach after the Braves came back from a two set deficit to defeat San Juan 23-25, 23-25, 25-13, 25-13, 15-10. "I just wanted to see if it would make any difference."
Stephens wasn't sure why the team was struggling in the match, but she knew they had the talent to turn things around.
"I knew they could play better," Stephens said. "For some reason, our block was not good. I knew if we could block it a few times, we could get our confidence back."
But stopping sophomore outside hitter Tatiana Su'esu'e and junior middle blocker Justin Hutchins was a tall order on any day. What anyone who follows 2A volleyball knows, however, is that the Broncos are most dangerous in the playoffs.
"Obviously, we knew they were tough," said senior middle blocker Kaitlyn Rowser. "But it wasn't so much what they did to us in those first two games as what we did to ourselves."
Rowser was a difference maker in the last three sets as she earned 12 stuff blocks and 11 kills. She said the first few blocks changed the momentum of the match in their favor.
"Once you get that momentum going, it seems like it's easier to hang onto," she said. "I got a few blocks, and then you can time them right and it works great." Stephens said the block didn't just give her team confidence, it rattled San Juan's hitters as they tried in vain to hit through the Braves' big block.
"Once we started blocking, it was a different game," said Stephens.
And that line-up change? Richins said it wasn't wasted energy.
"I think it gave us a new look," said the senior, who added 14 kills. "The change gave us more energy, and I think we matched up better with them."
Even when the Braves were struggling to stop San Juan's powerful hitters, Richins said they didn't get frustrated with each other.
"We just tried to stay positive and support each other," she said. "It means a lot for us to make the semifinals. These six seniors have been together for a long time, and it means a lot that it's coming together like we always hoped for." The Broncos were led by Hutchins, who finished with a game-high 14 kills, Su'esu'e, who added 13 kills, and middle hitter McKale Simpson, who earned 12 kills. Sam Giddings, senior outside, had seven kills, and Brooke Lyman finished with three kills.
In the other quarterfinal matches, the defending 2A state champion, Richfield, swept third-ranked Millard 25-12, 25-16. 25-12 and advances to play Beaver at 2 p.m. Friday in the 2A semifinals. Top-ranked Enterprise swept South Sevier 26-24, 25-19, 25-12, and advances to take on fourth-ranked North Summit at 2 p.m. in the other semifinal match. The 2A championship match is scheduled to begin at 7 p.m.
All of the volleyball playoffs are being streamed live at www.deseretnews.com.
Twitter: adonsports email: adonaldson@desnews.com